September 24th, 2009 | Posted by Daniel | In FTV Girl Morgan | 10,995 views
This time FTV Girls visited busty teen girl Morgan. She is 20 y.o. & she is the real first timer, very shy first timer. But even shy girls undressing on public & masturbating for FTV using hands & sex toys. Morgan's height: 5′1", her figure: 34D-24-33. She has piercing (in her mouth and on the belly button) & tattoos on the belly. After some time on FTV Morgan becomes more relaxed. When she did naughty pictures with people around it really just made her all hot and bothered. Morgan masturbated, used sex toys and she definitely liked it. She got pussy juices flowing from her pussy dripping on the stairs. And she got orgasm with her own vibrator. With the vibrator she also brought her husband with her who played with her big natural boobs & pussy, inserted fingers & sex toy inside her vagina. Its turned her on when her now husband watched her masturbating intensely from the side lines. Watch Morgan's sample video on her profile page.
This is Shy FTV Girl Morgan: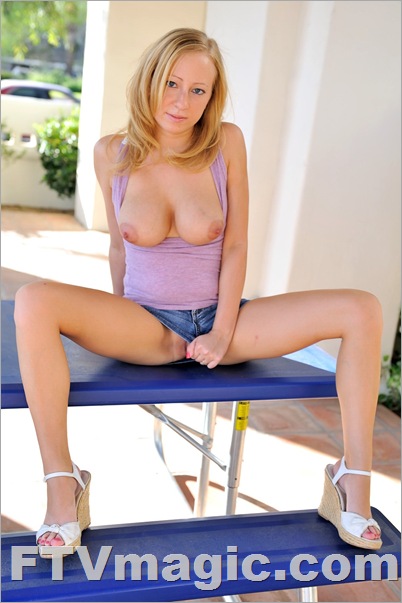 6 Comments »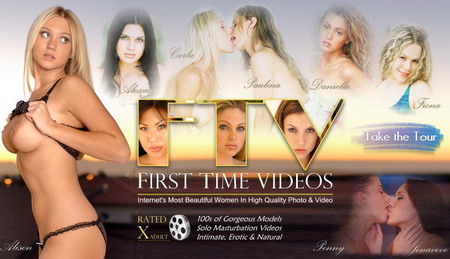 September 22nd, 2009 | Posted by Daniel | In FTV Girl Lilith | 34,937 views
Today I want to meet you with gorgeous brunette. She shot for FTV girls some time ago and now her photos & videos available for downloading in the members area. Her name is Lilith. She is 25 years old. Her height: 5′4". Her figure: 36D-26-37. She is really nice. I like her face, her figure, pierced pussy, big natural boobs… and her extremely big vagina. And she is a nympho. Her morning starts with her man's giant cock sliding around her pussy. She likes 'um big! Two big orgasms usually hit her back to back, follow it with a real thick but plug in her ass and that's a great morning to wake up to! Some people like coffee, she likes… Lilith brought with her big purple toy that bigger than FTV monster toy. On photos below you'll find her ridding that big purple toy, FTV monster, big glass toy and other toys. But she needs more to get enjoyment. FTV Danielle inserting two (!) hands in her pussy. What a fisting! Really new thing for FTV. Videographer shot also a lot of great staff with Lilith. For example do you remember girls who inserted shoe's heel in the pussy? Lilith inserted half of the shoe lol. Do you remember girls who inserted panties in the vagina? Lilith inserted all her dress. I'm not joking. Need more? This girl inserted 2 zucchini in pussy and 1 in the ass. Also 4 zucchini in pussy at one time. You should watch her videos with extreme deep penetration. FTV subscription – is the right way.
This Is FTV Model Lilith: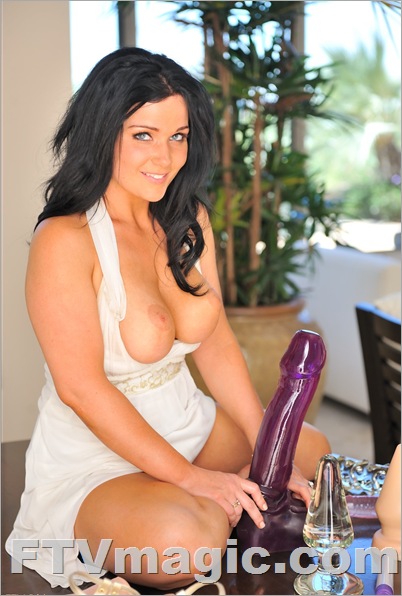 20 Comments »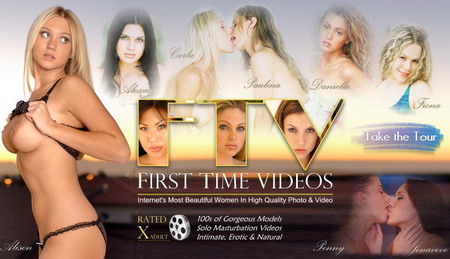 September 13th, 2009 | Posted by Daniel | In FTV Girl Denise | 75,464 views
This update I had been waiting for a long time. The girl is so pretty and nice. Her name is Denise. Why had I been waiting & what I liked in this girl? Her face. Its so sweet & sexy at one time. Denise is just turned 18 years old so she is now legal to perform her first time video. Yeah, she is barely legal and masturbating in front of camera, using sex toys, having orgasm and more. Download 5.8 Gb of her videos from the FTV members area. Denise has a fit form, she is a boxer and a personal trainer. Her height: 5′3", her figure: 34A-23-34. Need to say that this FTV girl has a very nice bubble butt. Denise is a friend of FTV Ileana and was brought to FTV girls by her. On the videos you'll find them having fun together, fooling around and teasing each other. Also on videos you'll see Denise showing her gym, acrobatic & boxing skills, shooting herself in the locker room, and… playing with water hose (she squirted water all over FTV videographer from her vagina!). And this is not all. Denise visiting the pool party with FTV Lia, fingering (trying fisting) her pussy, playing with Big Ten Toy. And of course Denise was masturbating (even with two toys) and having orgasms. Inside this publication you can find some photos. I liked this girl so I think it will be a lot of free staff inside this post. UPDATE: Sample videos & Denise's comments added to the post.
FTV Teen Girl Denise: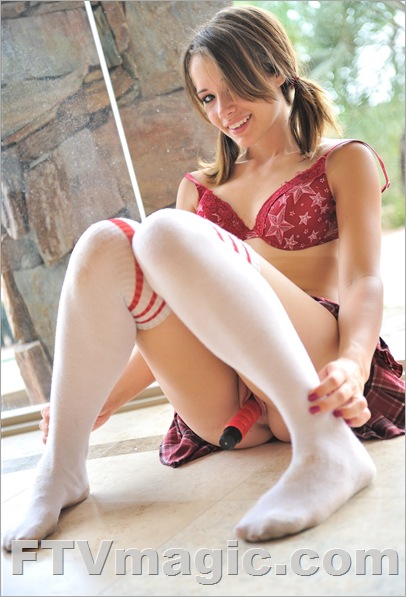 16 Comments »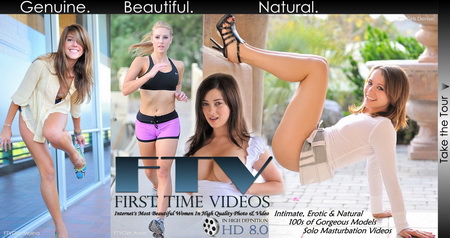 September 7th, 2009 | Posted by Daniel | In FTV Girl Claire | 15,113 views
New FTV model is Claire, nineteen years old, five foot nine, half German, half Mexican. Her figure: 36B-27-38. She's been doing modeling since she was little. And when she turned eighteen, she tried out some implied nudes. Lately she's been doing more explicit nude work, and now she's feeling out the solo masturbation video for FTV Girls. In the members area you'll find 214 Claire's photos & 3600 mb of her videos. Become the member & you'll see a lot of upskirt, flashing, and even fingering over at the busy mall, masturbating on the street on the stairs. At home Claire was masturbating with hand & with some sex toys, dressing in black dress & heels and even meeting with FTV Danielle. They were performing live show for Danielle's members (her own paysite) where they were flashing boobs & kissing each other. Also at home were made some close-ups of her pussy. Small part of this action on photos below. Much more on videos… (like talking, masturbation & real emotions) but you'll have to subscribe FTV girls.
This is FTV Model Claire: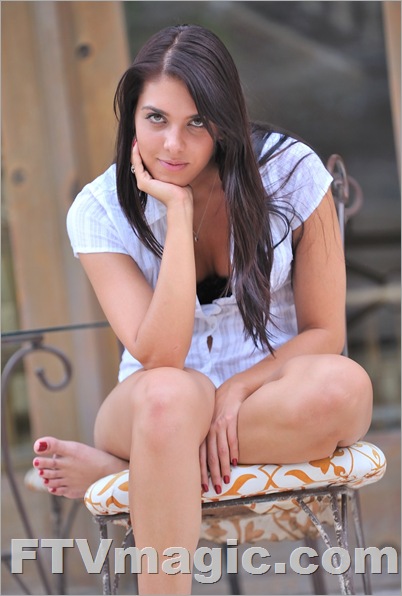 7 Comments »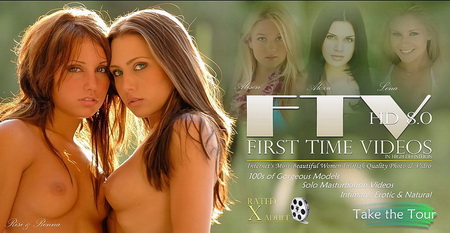 September 3rd, 2009 | Posted by Daniel | In FTV Girl Brigitte | 19,704 views
Let's meet another one first-timer, amateur girl Brigitte. She is 21 y.o. She likes cheerleading and has a great flexible body. Some of her skills (doing her cartwheels into splits, lifting her leg up and over her head, doing a toe touch in the air and many other amazing stunts) she demonstrated to photographer and you can see it on photos and videos (some photos provided below). Brigitte's body is amazing. And she works hard to keep it that way. She has a wonderful butt. It is very large, very round and extremely smooth… the part of her body I liked more than else. Also she has implants, they go very naturally with her, and look real enough. FTV Brigitte thought that she is not into masturbation and prefer sex with boys. But she's got unforgettable experience shooting for FTV & the best pleasure she's ever had with little pink sex toy. Orgasm after orgasm and she didn't want to stop. She tried another one toy: vibraking. And got multiple orgasms with squirting. Wow… Also this girl told that her pussy is very, very tight but it didn't prevent her from playing with 10inch dildo (some photos of this action you'll find below too). Get her natural, unrehearsed, and total first time videos in the FTV members area.
Multi-Orgasmic FTV Girl Brigitte: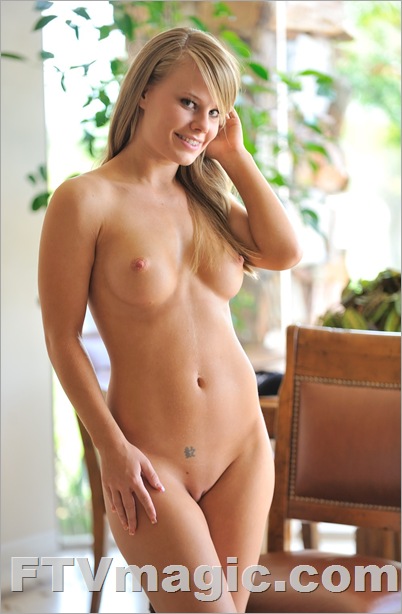 12 Comments »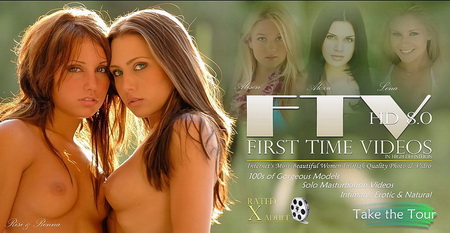 Highest Rated Girls
Join FTV Girls

All The FTV Girls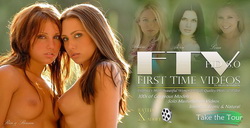 FTV Girl Alison Angel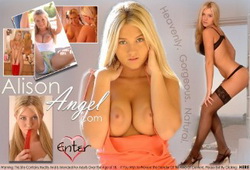 FTV Girl Danielle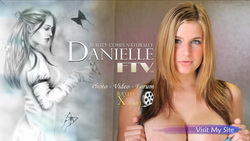 FTV Girl Lia 19