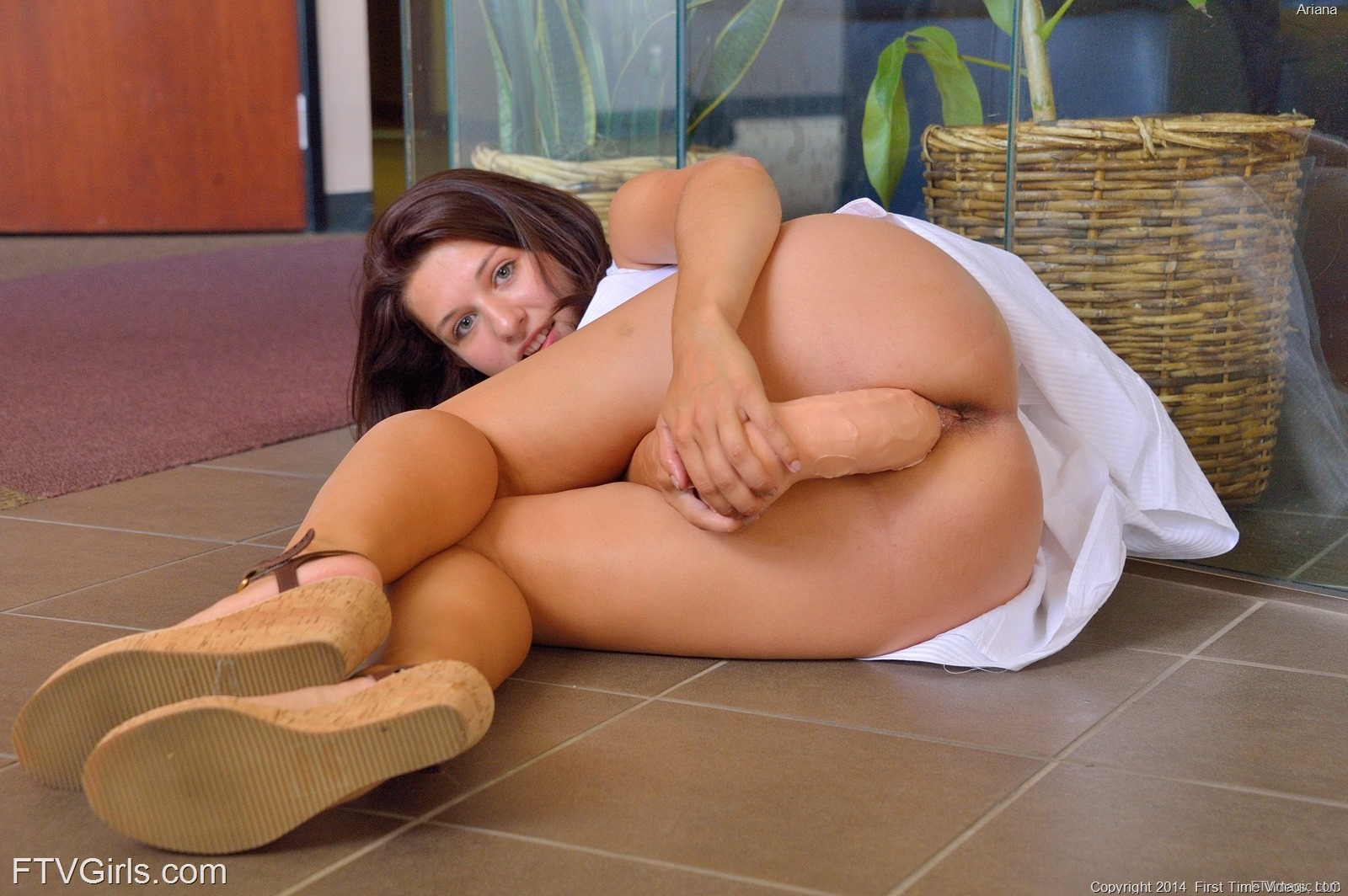 She is a horny beautiful teen girl with a very sweet face. Her name is Ariana and she is 19 years old. Ariana's height is 5'2", her figure: 36B-25-38. This girl has a great big butt and a very wide vagina! She spreads her pussy and inserts big toys inside! This is her second visit of the FTV Girls residence. Her first visit on this blog: FTV Girl Ariana: Seductive Teen (August 2014). In this update you'll see 320 photos & 70 minutes of HD video:
-> Masturbation: Orgasm w/Toy
-> Dancing Scenes
-> Visible Vaginal Contractions
-> Foot Fetish Scenes
-> Magic Marker Stuffing
-> Multiple Stuffing
-> Long Labia & Stretching
-> Double Penetration
-> Fruit & Veggie Stuffing
-> Extreme Closeups
-> FTV Monster Toy
-> Fisting (by male)
-> FTV Toy
Download all these video scenes from the members area!
FTVGIRLS Videographer's Comments: So Ariana returns — a lot of members wanted to see her come back for more, and extreme fans were pleasantly surprised by her deep fisting. By this point she's already started her porn career, but has the same fun loving and energetic attitude as before. We see her first at a resort, and she's got that cute dress & wedges on (which she actually left behind at the FTV house). Starting with some warm-up upskirt, fingering and breast play, she encounters the FTV Monster Toy. Its huge, and she's going for a rather extreme start. She rides it at first, getting about 1/2 way in, pretty deep! But she also ends up breaking the suction cup off, so we go to an office area further indoors (it was very hot outside) and she ends up doing herself sideways showing off that sexy butt of hers, as well as a clear view of the penetration. The toy helps 'warm her up' and stretch her out to a point so that she can fist herself, and ends up fisting even deeper than she did last time, going way past her wrist! But the fisting ends rather abruptly as a security guard shows up from behind me, actually startling me. It was time to go… Back home, she takes a little nap, then masturbates with her favorite toy the Magic Wand Toy. She ends up with an orgasm rather quickly, with strong visible vaginal contractions, then does some more labia stretching/pulling. Every time she has an orgasm, she ends up hornier, and gets sexually aggressive on me again. Putting on a cute nightie, she does a dance for us to her taste in music, then goes outside for a little soccer ball demonstration. And those of you requesting foot fetish (she has very pretty & petite feet) she shows them off, then does some toe sucking as well.
This is FTV Teen Ariana:
Continue reading FTV Girl Ariana: Seductive Teen II (Nov 2014)