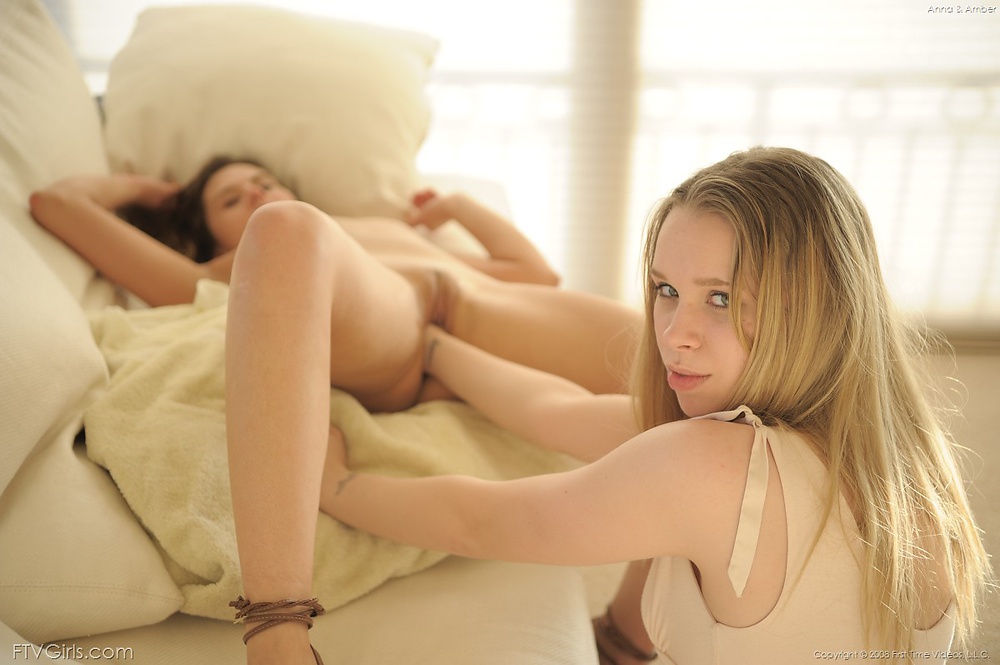 Anna's Comments: I woke up early in the morning in the arms of my lover, all excited about what we were going to do!  I was apprehensive too, since Amber was the one who set this whole thing up.  I wanted to do it, share our experiences on a site like this, but at the same time I really don't want my parents to find out.  I also didn't really know what to expect and if it would be as exciting as it is in some of the sample videos I saw in the FTV tour.  Well the toughest part I discovered was the plane ride!  We had to get up at 4am, then take a plane 6am (from Portland, OR) and then arrive at Phoenix at 10:30am.  We cuddled and slept on the plane, but I was worried I'd be too tired to shoot.  Well it wasn't so!  From the beginning the whole experience was exciting.  The photographer had some ideas he gave us by phone, like going to a mall, making out at a cafe, and what to wear that would be cute.  Me & Amber have all sorts of cute dresses and heels so it was easy to match and look cute together.  What do you think?  Did we look sexy with our short skirts and cute heels, showing off our legs?  We sat at the cafe, and started kissing, talking funny stuff that you can't hear in the video.  Sooo insane how we took it to crazy levels where we're fingering each other then going down on each other out at the mall and parking lot!  Even funnier was the guys who did watch or even the one who took a cell phone pic of us.  Not everyone was happy about it though, seemed like the cranky housewife types reported us and the security hunted us down.  Well as long as I don't get arrested, I don't mind it at all!  I love kissing Amber and I'll take it public.  When the security asked what this is for, I said its a 'lesbian documentary' hehe.  I think I liked the attention too, it started getting me off.  I love Amber, and she is so sweet to me.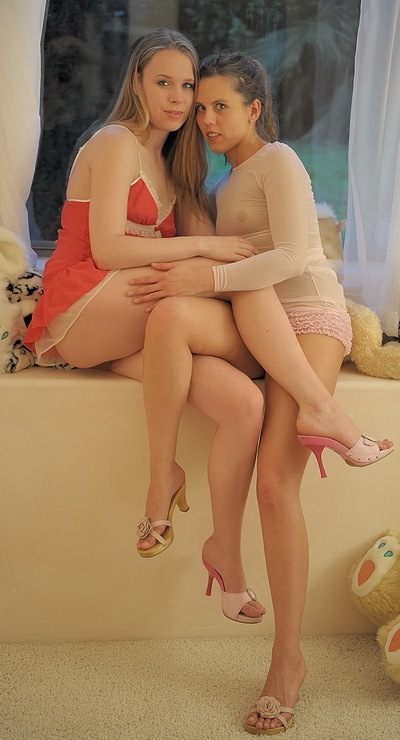 Sample Photos:
Amber's Comments: OMG! What an amazing and incredible day! I am so glad that I got to share how beautiful and fun Anna is with you all at FTVgirls.com. But before I tell you about our crazy sexy adventure, let me tell you a little about myself. I'm liberal, vegetarian, and a part-time college student/artist- which, in a way, is what lead me to explore my exhibitionist side. You see, I got involved in supporting of Oregon's medical marijuana act by being a spokesperson at the Hempfest Outdoor Festival and even modeled as a Cannababe. It was so fun being in front of the camera interviewing the bands! From this I ended up doing some body art and stuff. Since then I've just unleashed this sexy nudist side! I love pushing it to the limit. And it really turns me on showing off like this. When I came across FTVGirls.com I couldn't stop thinking about how erotic and uninhibited those girls were. WOW! I would touch myself watching the videos and soon I was imagining what it would be like to one of those girls.
I've been seeing Anna for about eight months now. She is like the perfect girly mixture of sweet, silly and sexy all at the same time!!! It's funny how we can go from joking and being completely dorky to passionate and intensely physical at the drop of a hat. We're not entirely exclusive, (I'm a little naughty) but we have been steady and hot for each other since just about the first moment we met. We got intimate about six days after we first got together. The Photographer asked how we met, and what I said was true; but I didn't mention, and I have never told Anna before, that I had noticed her before that day in the park. After seeing her a few times as we were passing in opposite directions I thought maybe I'd comment on her jacket or an outfit; She has a great sense of style. But instead, graceful as ever, in a hurry, I accidentally bumped into her with an armload full of stuff. A total accident, but it worked out anyway. So, here we are, WOW! She is so cool to come with me and do all this sexy wild stuff. Mmmmmm she's the best! It just makes me smile and feel all warm inside.
Sample Video: