Most recent chick on FTV Girls official website is blonde Amy, first timer. Beautiful & kinky one. Her height: 5'10", her measurements: 34B-24-35. Nice slim figure with small tits. Amy has never done any adult before, and this shoot was a definite warm-up and confidence builder for her. She would become one of the most extreme girls ever shot on FTV. This young and innocent (at the first look) girl performs anal spreading & anal fisting and also involves videographer in sex toy play. Amy has two updates in the members area. But we share with you only one of updates, the better one, the most extreme. In this update:
General
Public Nudity
Masturbation: Orgasm w/Toys
Upskirt in Public
Dancing Scenes
Fetish
Water Hose Play
Water Squirting
Anal Fingering
Anal Toys
Vagina Gaping Closeups
Double Penetration
Extreme Closeups
Extreme
FTV Monster Toy
Anal Gaping
Fisting
Anal Fisting
Glass Titan Toy
All this action (251 photos & 67 minutes of HD video) + action from Amy's second update (247 photos & 52 minutes of HD video) you can download from the members area right now.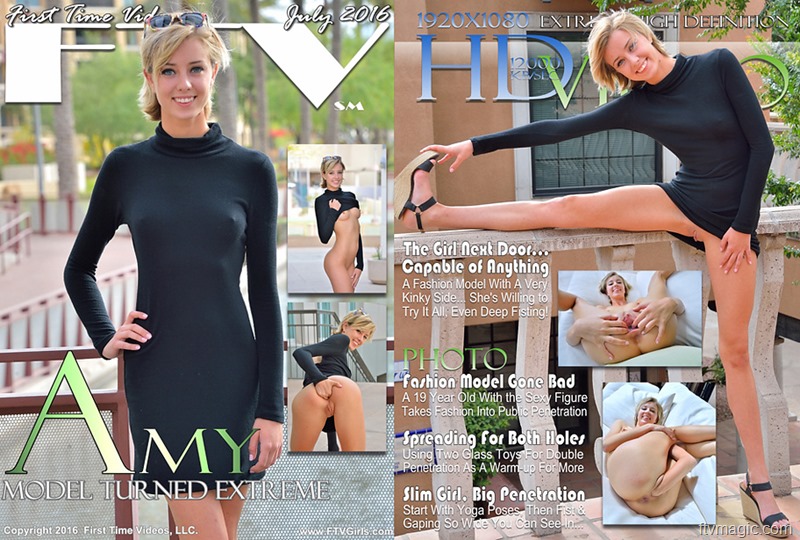 FTV Girls Amy Comments
I've always been into watching porn, since I got my first cell phone when I was 8. People say how kids who get cell phones early have access to the internet and porn and it hypersexualizes them. I guess that is what happened to me. I even started practicing fingering my ass when I was twelve, and I was playing with toys bigger than the size of normal dicks when I was 14. I always liked the extreme porn where girls are getting fisted, or riding big dicks and getting their pussies and butts stretched out. I wanted to be one of those girls but I didn't know if I could really do it. I think I surprised myself by being able to fist my pussy and butt. It feels especially good when I fist my vagina and I really liked pushing things like the Hitachi vibrator and the big dildo into my pussy. I like the feeling of pressure something about it feels really good and I can't really get that from a normal dick. Though I still love fucking too. By the end of the day though I think I was done, my pussy was sore and my ass too, and I had this tummy ache where my body was telling me that's enough! I really want to come back though and do it again and maybe try some more things. Now that I know I can fist, I will be doing it at home just for fun. I think its a totally new way of having sex with yourself(;
Amy's Free Photos
GET ACCESS TO THE MEMBERS AREA
Watch HD Videos with this Young Girl Masturbating in Front of Camera
Screenshots from Videos
| | | | |
| --- | --- | --- | --- |
| | | | |
| | | | |
| | | | |
| | | | |
| | | | |
| | | | |
| | | | |
GET ACCESS TO THE MEMBERS AREA
Watch HD Videos with this Young Girl Masturbating in Front of Camera