Hello, dear friends. It's Daniel. Last FTV Girls update (November 20, 2015) brought to us horny 20 y.o. girl Anyah having her TOTAL FIRST TIME EXPERIENCE. She is very funny, no shy, having a lot of fun during her shot and public nudity scenes. Anyah has a slim well shaped body, her figure: 33B-24-35 with height 5'4". There is something special in her eyes. May be lenses… Anyah loves to stretch her pussy, spreading it out, so you'll see a lot of pussy close-ups in this update. And also:
Public Nudity
Masturbation: Orgasm w/Toy
Dancing Scenes
Extreme Closeups
Vagina Gaping Closeups
Veggie & Fruit Stuffing
Golf Ball Stuffing
Anal Fingering
Anal Toys
FTV Monster Toy
FTV Titan Toy
Fisting
258 photos & 113 minutes of video uploaded to the members area. You can get access and watch/download all her videos + videos of other young girls.
Anyah's comments: So I'll just start from the beginning! I was born in Oneonta, New York and moved to Kansas when I was five. My family was the type that could never settle down in one place. We always moved every five years or so. I never minded it too much, I actually kind of liked it! It was always fun to me to meet new people, make new friends, and see new places. I was mainly raised in small towns, where everybody knew everyone. Most of my childhood i was EXTREMELY sheltered, until I moved back to my home state, New York. I lived about half an hour outside of New York City when I entered high school. That first year I learned how much I actually loved sex. At one point in my sophomore year I actually had gotten expelled for getting caught having sex on more than one occasion! After driving my parents crazy for a few years with my sex driven mind, and probably a few gray hairs we settled down in Southern New Hampshire. I went on to graduating high school in 2012, without getting band. I graduated with straight A's and a 4.0GPA, I even had gotten a perfect score on my math state testing two years in a row and graduated in the top 10% of my class. After slaving away for four years, I decided I deserved a little bit of a break from all the homework and testing! Instead of being the responsible type that my mom wanted me to be so bad, I told myself, "take a year off, go enjoy life!" And that's exactly what I did! So much that I found out I would be expecting that Fall. Life as it many times does, got in the way. I didn't end up going to school for law, which was my initial plan, but instead took a course to get my real estate license. So if anyone needs to sell their home in the state of Massachusetts, I'll be your go-to gal! I try to keep busy, even though my son already does quite so, by bartending at a little tavern in New Hampshire! I love the fast pace atmosphere of it all, but it doesn't give me much freedom and spare time that I would like. I mean who really wants to work every night, weekend, and holiday? Not me that's for sure. Hence the reason I'm shooting my first time video with FTV Girls!
This is Horny FTV Girl Anyah: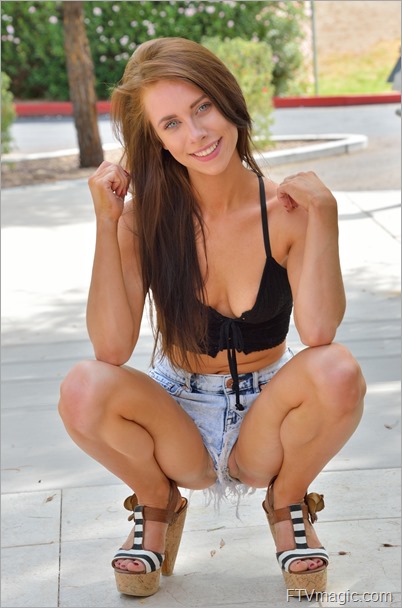 Anyah's Free FTV Girls Photos:
Much more on videos! Get access!
Subscribe FTV Girls Today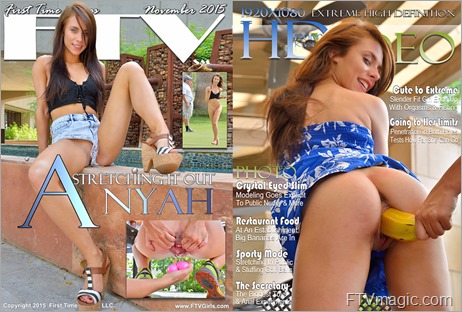 FTV Girls Videographer/Photographer's Comments: Anyah wanted to shoot with FTV, but took her time in setting the shoot up, because she wanted to start with FTV, but do other shoots afterwards, in LA. So once she had an agent set up with more bookings for her, she flew into Phoenix, shot for FTV for the weekend, and then went down to LA to start her adult career. She had originally sent me these photos: #1 #2 and a series of selfie nudes #3#4 #5 #6. She had a bartending job in Boston, but wanted to make more money in the adult industry, as well as for the excuse to travel to the west coast and visit California. From the night before when I first picked her up, she was full of life & energy (even though she had been traveling for 9 hours) with such a positive, fun attitude. On the morning of the shoot, we looked at the clothes she had with her (which were relatively simple, casual stuff) and picked out a good combo to start with. Sexy wedges, short cutoff jean shorts, and a small top allowed us to enjoy watching her figure as she walked around the golfing resort area we picked out to shoot in. She sits on a bench, and just by pulling her shorts back she was able to spread and finger herself — start masturbating. We then see her bottomless, and flashing her breasts, and her spreading/gaping her vagina from behind. That's when I realized she had extreme potential, by the way she could gape… We head over to the nearby golf course, and she's running around and doing cartwheels bottomless in front of a bunch of golfers. They enjoy it, thank her for flashing, and it helps open her up to public nudity. So now she has no problem flashing where I ask her to. We eventually go back home where she has some experience with the Magic Wand Toy, and masturbates with it for a while. But she's the kind of girl who prefers something inside her as well as on her clit — so I bring her the Vibraking Toy as well as a smaller toy to push into her vagina. That combination makes her masturbate for a long while, in total pleasure to orgasm. I see vaginal contractions here and there, but nothing too clear and strong enough to note (unless you guys see it more clearly than I did). While giving us extreme close-up views of her swollen clit, she talks about how she lost her virginity at 13, as well as how she first started masturbating. She then gapes her vagina, really wide, stretching it out so you can really see inside her vagina. So the idea of fisting comes up, something that she's never done before, but is willing to try. She tries it the front way first, but her arm doesn't reach, so through the side she's able to go deep, and it surprises/shocks her as to how she's able to do it so easily. It turns into a fist-fucking, as she gets really into it, and ends up with a surprise orgasm at the end. I also have a second camera angle for that fisting scene. Size/pressure works for her…
FTV Members' comments:
NiceSteveB: Amazing gaping, what a beautiful open vagina, makes you wonder if she's had a baby?
Marcus: oh my gosh!!!! instant classic, and begging for more!!!
DAve: Nothing hotter than a young, tiny, skinny girl with a huge pussy.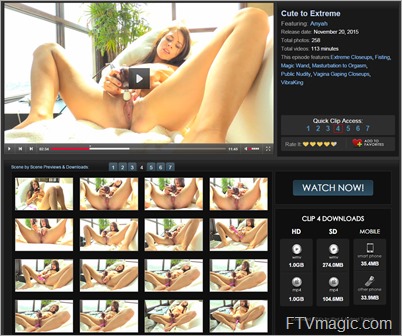 Watch her masturbation videos only on FTV Girls website.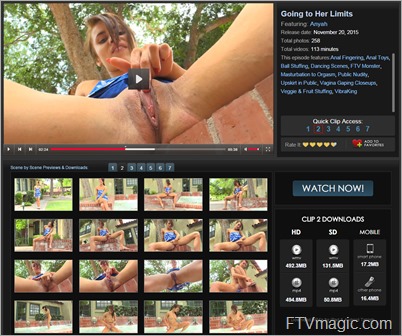 Great videos in HD quality. So close to you… Get access!