Meet fresh young star FTV Girls Aurora. She was born in Germany and raised in Las Vegas, grew up with my first language being Russian. Aurora is 18 years old for now, smiley playful girl. Her height: 5'8", her figure: 36B-26-36. She has her totally first time experience in her 18 years old… and you can see this horny teenager spreading legs & masturbating to orgasm in front of camera. In her update:
General
Public Nudity
Upskirt in Public
Masturbation: Orgasm w/Fingers,Toys
Dancing Scene
Fetish
Extreme Closeups
Vagina Gaping Closeups
Long Labia & Stretching
Veggie & Fruit Stuffing
Extreme
Near-Fisting
FTV Monster Toy
Total in her update: 192 photos (1600px), 42 minutes of video (12000kbHD). Get access to the members area and start downloading.
Photos of FTV Aurora:
MUCH MORE ON VIDEOS
GET ACCESS TO THE MEMBERS AREA TODAY
Download all Her Photos and Videos in HD Quality

FTV Videographer's Comments
First thing you'll notice about Aurora is her vibrant attitude, and her spunky, fun, active nature. In fact, most of the shoot was in regard to her activities, and how much we could get away with shooting public nudity while she was keeping active. She did her first time shoot with FTV, never done any adult, but super kinky and hypersexual in every way. FTV was her first step in the adult career, and I expect her to be a porn star one day. She sent me these application photos: #1 #2 #3 #4 #5 #6 #7 #8 — cute girl, with talent (cello) and a Russian background. The accent still exists, and she does speak, read, and write Russian, even though most of her life has been here in the US. So we start with her roller skating at a very busy park with joggers, bikers, dog walkers, etc… and that short skirt makes for some easy teases. Her cute panties are seen as her skirt goes up, and whenever she finds a bench, she's exposing her labia and fingering herself. Housewives everywhere were getting suspicious, so we kept moving around. Then we stop at a construction area, and let her tease them as well. Considering that she's never even taken a nude photo before, this was some pretty frisky stuff. We then go to a more desolate road (though drivers got to see her naked — some turned around to make a second pass to watch her) and watch her roller skate back and forth fully in the nude. If you were wondering what that patch is on her knee, its from falling on her skates. Fortunately no accidents on this shoot haha. A little lunch tacked on with her talking about her life abroad, and some under the table teasers. So when we get back home, I wanted her to masturbate her way, and she's one of those girls who can get off with just her fingers. An orgasm with visible vaginal contractions finishes it… nice. She also has long labia and pretty private parts, so it leads to spreading, showing off everything and stories about how early she learned about masturbating, and her rather kinky sex life that also started early. She likes older guys… Some butthole 'winking' for those of you who like that (and it will come up again later in her butt play). She wanted to try fisting, and she got five fingers in, but struggled to get any further. She has rather big hands, in fact, even bigger than mine. If I only had a small-handed girl to do it to her! The night before, we went to the grocery store, and got a supersized radish, something that she picked out. Here we see her fuck the veggie, and only then she tells me that she hasn't had sex in a while, and its definitely pushing her limits. She does have a tight vagina, as you can see how she snaps back, and I think she's 'well muscled' and it makes her vagina even tighter. Hot angles of the penetration, and the strong muscles hold that veggie in her, then push it out. A change of look with her hair down, and a 'flower child' style starts with a cute dance to music (I kept telling her to show more of her butt, but she would turn around). She's introduced to a new toy I bought — an even bigger FTV Monster Toy. Before she uses it though, she ends up finger masturbating again, and in that lighting you can see her vaginal contractions really clearly on orgasm. Now about the new FTV Monster — If you watch the outtake clip10, she actually wanted to try it the night before. But this thing is HUGE. She struggles to get the head in, and goes a little deeper while riding, but you can see how the toy is getting bent and pushed in every way to get in there. She manages to get in deeper when shes sitting down, and I helped push it in… getting nearly half of it inside her! But she couldn't take it for very long. Somehow though, she likes the 'pain', and she talks about that too, as an erotic thing for her. She had been requesting the Vibraking for a while (because she saw other girls use it on the site) and so she gets her wish now… ending up with another strong orgasm and contractions… and it all happened so quickly! She finishes up by four-fingering herself deep, and touching her g-spot. The last clip is an outtake, where we see her for a late dinner after I picked her up from the airport, her flashing, talking about her kinky sexcapades, and taking off her panties for her first public nudity. The coverpage is split up into two parts, so continue with her next adventure in part two.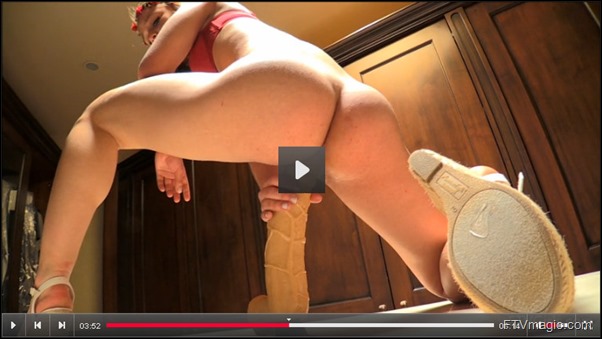 GET ACCESS TO THE MEMBERS AREA TODAY
Download all Her Photos and Videos in HD Quality