So.. Here we are in 2016. New year and new girls, right, guys? And the first girl of the year is young, sexy girl with sweet face Aveline. She is 19 years old teenager from Ochlahoma. For real, Aveline looks cute & sexy at the same time. Her height: 5'3", her figure: 34B-26-35. What a girl! She also has pierced clit and pierced boobs. Aveline doesn't smoke, drink, do drugs like many teens in her age. To do a shot for FTV Girls she took a weekend break from college. She sent these photos in her application:
What do you think this innocent girl showed to FTV members? In her update:
Public Nudity
Masturbation: Orgasm w/Fingers, Toys
Upskirt in Public
Massage(Hard): Breast
Extreme Closeups
Visible Orgasmic Contractions
Foot Fetish Scenes
Vagina Gaping Closeups
Veggie & Fruit Stuffing
Right now you can download all her 386 photos & 107 minutes of HD video from the members area. And as usual some photos from her shot I share with you.
Aveline's comments: If you cant put everything you have into it then you should just keep it a hobby. When you find that one thing that truely makes you happy and when your doing that one specific activity it should feel like nothing else in the world matters, nothing exists but you and your passion no matter what it is because what's life without passion otherwise we wake up, work, go home, and sleep. Life wasn't given to us for that purpose, we were given life to give something back. My gift back to life and thankfulness that im able to do what i love for the simple fact that not all are able to do so. Another thing that i could say about me is that im a conspiracy thinker. Ive watched videos and videos of things about the goverment and nothing even makes sence what they are saying. It's just ridiculous. My day job is to work for the city i live in, i'm in the billing department. I also work at a skydive center on the weekends so i'm a sky junky as we call them. Sky junkys are people who love being in the air, poeple who love the adrenaline rush that jumping gives them. Skydiving is a complete high on its own, i can honestly say it's addicting from the point where you are harnessing yourself up and loading in the airplane to the initial jumping out of a perfectly good plane. The view is incredible no matter where you might jump. The landing is a little tricky you always try not to faceplant yourself on the grass but there is always that possibility. I drive a 2013 dodge challenger V-8 , got to have that hemi, it's a six speed manual, I always go with the stick shift I just feel like its the better style car. I love sports cars especially the muscle cars. I don't smoke nor do I drink. I just think that its not good for your health and it doesnt benefit you in any way so why would you put toxins in your body for no reason at all. It just doesnt make sence , plus it ages you very badly and stains your teeth. I always try to eat healthy, the less sugar the better. Even if it's just switching to scrambled eggs from fried. I run occasionally but not ever on a schedule. I use to weightlift in high school to help build all around muscle for basketball. I ended up being able to squat press 520 and I had a calf press of 360. My bench press was only 100 but I was able to dead life 195 at a max. I've learned a lot in life and my biggest lesson was do whatver you want because everyone is gonna judge no matter what your doing or who your with. As long as your truley happy in life then your living it to the fullest. The rode's long but with drive and passion you can go anywhere. I always say ride your best horse first because life is to short and you never know what may happen. I absolutely enjoyed my FTV experience. I was always made sure i was comfotable and they went out of their way to make me that way. It was definetly different from anything I have ever done but it was also worth it for the new experince. My favorite part about this shoot, well i enjoyed all of it but if i had to pick it would be a toss up between the introductory to the vibrator and attempting to flash in a local restaurant. It's more challenging than you may think. I loved it and would definitely do it again. I hope you enjoy my first time video.
This is FTV Teenager Aveline: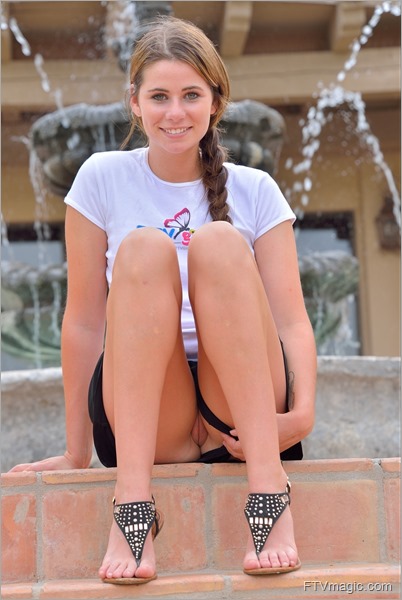 Aveline's Sample FTV Photos:
Mmm! I'm crazy about her! But you've watched only photos. Much more on videos. More action, more emotions…
Subscribe FTV Girls Today
Watch her masturbating in front of camera on HD video