First summer girl and most recant FTV model here and now on FTV Magic! Meet FTV Harper. She's not a girl with slim figure and not this type of girl but there is something sweet in her face. She is 23 y.o., she has a nice soft skin. Her height: 5'7", her measurements: 36C-27-38. I am not the fan of boobs like hers. But I like the way her pussy looks. Only the large labia, nothing more. Looks like a tasty hamburger. Well… Harper has her absolutely first time experience shooting naked for FTV girls (FTV exclusive).
Some words from Harper: "This is Harper here and for starters, I would say I am an outgoing, funny, sweet, easy to get along with, trust worthy kind of girl. At least that is what my friends would say about me and for the most part, I would have to agree with them. My best friend and I are trouble and other people always suggest we get our own reality show. I do admit though, I have a crazy side to me just like everyone else. That is why you are watching my first time video, my friend Teal just had her first one a few weeks ago and told me how fun and new it was so she suggested I do the same. Last minute sort of thing but everything worked out great. It was completely out of my comfort realm because I grew up with a very religious background, but I had fun with it and enjoyed myself.. a few times… I had never before this been photographed naked other than myself taking photos in the mirror. It did take me awhile to relax and I can't say that I fully relaxed but the thrill of it is what kept me going. Before this I had never used a vibrator or a vegetable for that matter so it wasn't ideal to do all of that for my first time on camera but if extremes like that didn't occur, then the saying "Go big or go home" wouldn't be used. It turned out to be a gorgeous day where we filmed so it was a lot of fun visiting all of the different sights."
In her update: public nudity at resort, golf course; masturbation to orgasm with toy; hard breast & butt massage; dancing scene, jogging scene, yoga scene; extreme close-ups, zucchini stuffing, strong vaginal contractions. Below you can find a lot of free photos of FTV Harper. Subscribe FTV Girls and download her HD Vids.
This Is FTV Girl Harper: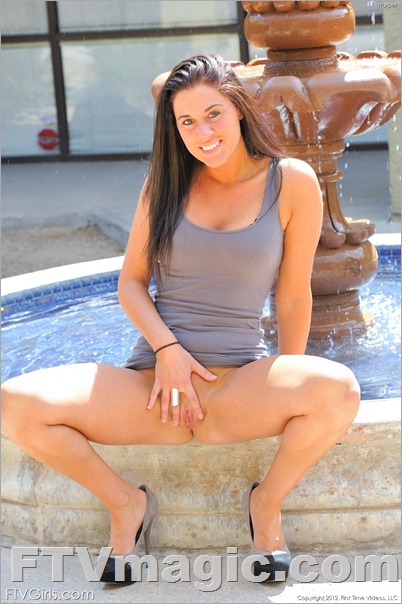 Harper's Free FTV Photos:
SUBSCRIBE FTV GIRLS NOW
4.1 Gb of Harper's Video +1.5 Tb of other girls' videos.
Also just one screenshot from video: