TOTAL FIRST TIME EXPERIENCE! FTV EXCLUSIVE! Sexy, sweet, smiley, gorgeous girl on FTV Girls for today! Her name is Janessa and she'd been shot for FTV on 24 October 2014. Janessa is 23 years old and as I said before she looks very sexy with her tall slim body and a great sweet smile on the beautiful face. Her height is 5'5", her figure: 34B-26-37. As I started watching her photos I just noticed her beauty… But then she started to undress & showing her private parts! She is very playful naughty girl, fucking her pussy with the banana and the FTV Monster Toy! So here will be a lot of free FTV photos below. In Janessa's update:
-> Public Nudity
-> Masturbation: Orgasm w/Toy
-> Shower Scenes
-> Massage(Hard): Breast, Butt
-> Anal Fingering
-> Big Ten Toy
-> Upskirt in Public
-> Fruit and Veggie Stuffing
-> Extreme Closeups
-> FTV Monster Toy
You can watch all this sensual action on video in HD quality (2 hours of public nudity, masturbation and just funny action) in the members area.
This is FTVGIRLS Janessa: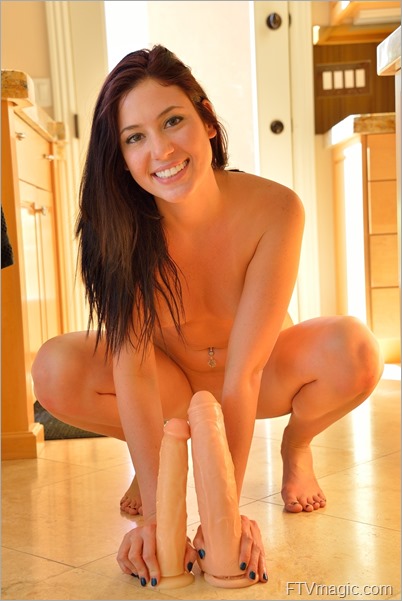 FTV Model's comments: So let's talk about guys now… guys.. well, love them and hate them. I have a ton of guy friends but as far as the "boyfriend" role, well thats not really happening right now. I am not too worried about because right now I am able to do me, no pun intended :). I hope you all enjoy watching me cum as much as I cum. One of the best feelings in the world aside from working out. The gym is pretty addicting itself. You see, I get this natural high from it. After every workout I do, the feeling right after is so incredible. Almost as good as cumming. A gym high isnt as intense but it lasts so much longer than an orgasm. All day I am on this silly, smiling, awesome "trip" that just makes my whole day. Drugs? Alcohol? Huh? …. No. Exercise and Hitachi. Haha its so funny, my little dogs just watch me sometimes while I enjoy myself. Animals are by far the most understanding and loyal creatures to be made. My two dogs are my best friends. When I'm sad, angry, annoyed, ecstatic, tired…they are there by side at all times. Love them so much. Ok, so now we are at Exercise, Hitachi, and my puppies. Haha. Life is good and only getting better! So be silly, be weird, be out there because in the end nothing else matters but your own outlook on yourself. I try to be the best friend, sister, daughter, and lover to all who are important to me. Don't take life too seriously and learn from your mistakes. Its really that simple. Enjoy what all life has to offer and dont critisize too hard. Life is simply what you make of it and I choose to do whatever makes me happy! My friends and family are my number support and I think its important to have some sort of support backing you up. Let's talk about the shoot that I just did today!AH! I loved it! The more that I get naked, and play with myself, the more that I feel comfortable (doing private things) in public. Its making me realize that its not about how you look or come of to the audience, but more so, how do you feel when you are doing it. Are you comfortable? Can you smile naturally? Can you just go with the flow and let things flow as they come? I can say absolutely to all these questions I just asked. Something that I wasnt sure I could do but I now know I can. Being comfortable with yourself is key to everything. Your happiness, pleasure, love life, etc. It helps too when the people you are working with can make you feel at ease but mainly relys on you. I had such a great time! I am learning new things about myself that I love. I am simply enjoying my time being an FTV girl! So I'm going to end this by saying thank you for a wonderful, new opportunity and I so hope you all enjoy me, as much as I have enjoyed thus far! xo
FTV Janessa's Free Photos:
Get Access To The Members Area!
For only $30 you can enjoy HD videos
Sample Videos of FTV Janessa:
[uppod video=https://ftvmagic.com/videos/ftv_janessa_002.flv align=center]
Download The Full Scene In HD Quality
[uppod video=https://ftvmagic.com/videos/ftv_janessa_001.flv align=center]
Subscribe FTV Girls Today!
Download Masturbation Videos of 100s Teens