Her name is Jenna. She is 21 y.o. And she is cute & sexy at one time! Her height is 5'3", her figure: 34C-25-38. FTV Jenna is really horny! She fucks her pussy with Tennis Racket! She takes FTV Monster toy deep in her pussy. In total:
-> Public Nudity
-> Massage(Hard): Breast, Butt
-> Masturbation: Orgasm w/Toy
-> Downblouse and Upskirt in Public
-> Magic Wand masturbation
-> Tennis Racket Stuffing
-> Extreme Closeups
-> Vagina Gaping Closeups
-> Visible Orgasmic Contractions
-> Glass Ball Toy
-> Heel Stuffing
-> Anal Fingering
-> FTV Monster Deep
-> Fisting
All this action in 444 photos & 95 minutes of HD video available for downloading for FTV members in the members area.
Jenna's comments: Hey guys, it's Jenna. I just finished my First Time Video and I had so mych fun trying new things! I have played with some new toys including this vintage king vibrating wand that blew my mind. I also got to cum with my favorite toy the hitachi magic wand. I even fisted myself today for the very first time! I have never even fingered myself with five fingers. I was pretty impressed I could fit so much in my tight pussy. It was much easier putting it in when I reached my hand from behind and it kept becoming easier to reinsert my fist after every time. I even got to ride the FTV monster and boy is it a monster! That beast didn't even fit entirely in my pussy, but it felt so good when I put the hitachi on my clit. I love trying new things and I am glad I shot my first porn with FTV in Arizona. I came to a new place and came many times! LOL! I am from Miami, FL where I go to school for Finace. I am planning on switching my major to Biology though becase I enjoy studying scienece a lot more. I first decided to get my degree in Business Administration because I enjoy economics, but accounting not so much. I love dogs and I have two; a french bulldog and an english bullterrier. On my free time I enjoy taking them on walks in the park. I try jogging, but my bull terrier ends up pulling on me the first half and gets tired so I have to end up pulling him the rest of the way. I love to get them new toys to play with like rope and we play tug of war. I also love the beach. I like tanning and going for a swim in the tropical waters of Miami and the Keys. I do pilates and yoga. I like doing it in the morning so I start my day energized and strong. The pilates helps me tone and the yoga helps me stretch and relax. I love the water so baths, showers, hot tubs or anything like that is fun. I love going out on boats and smelling the ocean breeze and getting that nice sun glow. I try to get a manicure and pedicure weekly because I love to maintain a fresh and clean look. I also love the process of getting groomed. I get my hair trimmed every 6 months so I can keep my length. I want to keep growing it until it gets past my waist. I love the clean, simple and natural look. That's why I always get my nails cut short and painted a feminine color. Also, having short nails is way better for masturbating and fingering other girls. I would not have been able to fist myself if I had long nails or acrylics.
This is FTV Jenna: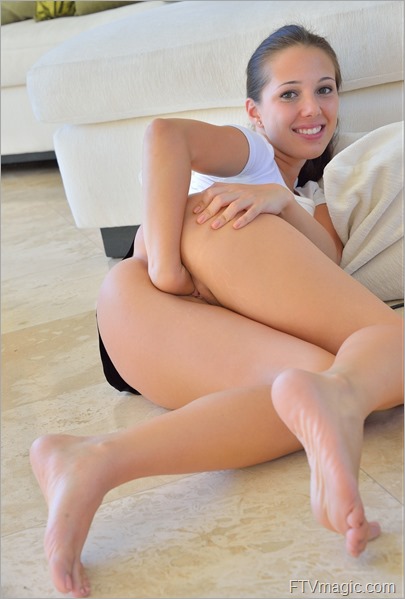 Free Jenna's FTVGIRLS Photos:
Sample Video of FTV Jenna:
[uppod video=https://ftvmagic.com/videos/jenna.flv align=center]
Subscribe FTV Girls Today
Watch HD videos of Jenna & other teen girls