Hey Guys!  I'm back again, it make it my number 3 visit!  What is it now, 4 years I've been modeling for FTV?  I was nineteen then.  I've grown old! hehe.  No just kidding.  If anything, my body is in better shape now than ever before.  I even got one of those bowflex things in my house to work out with.  But I'm lucky too I guess, I mean I can eat anything and not gain any weight.  I'm sure it would change if I didn't work out though.  So I started outside at a bus stop, its busy as hell, and I've got a vibrator in my pocket that I start using.  Then a fire alarm went off in the office behind me, so I left.  I sure hope some person didn't pull the alarm because they saw me masturbating nearby!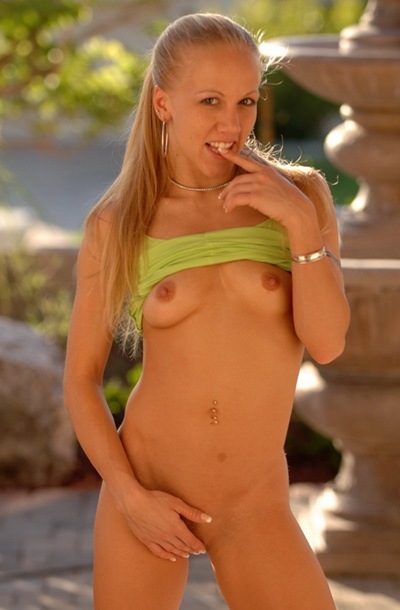 Then off to a park bench somewhere and some Mexican guys watching, but at least it wasn't so busy.  If I'm going to get off though I'd rather do it indoors.  So after the hot May weather got me all sweaty, I'm inside and using two toys to get off.  Great orgasms!  The photographer told me to go to the glass table to squirt and I see why.  And what's cool is I could see myself in the reflection.  I tell you, these curved toys make all the difference, just fast hard banging against my g-spot will do it!
Sample FTV Photos From The Members Site:
Hey Guys, this is the part that gets to be what I call 'FTV style', like things that I would never have thought of before and I end up doing here.  Pretty neat though, I'm always up for experimenting.  First I pushed & pulled my pussy every which way and showed off my clit that I can pulsate around, then I pushed in a set of large beads that have some rocky noisy thing in their middle so they made funny noises inside my pussy.  The big experiment was like a challenge for me.  I got the first 4 so easy, but the fifth one just didn't make it all the way.  The pictures totally wow me out, its like 5 wires going into me.  Reminds me of my fuckingmachines days.  Its all cool.  I think I broke one of the vibrators while it was in me, it started making really strange noises.  But its not like they're short of egg vibrators now, are they???  The last video was my own very special idea I wanted to do for you guys, let you watch me as I talk dirty to you, and let me work the camera and squirt in your face.  I think its the hottest part of the video!
In the
Members Area
Kylie Has:
2000kb/sec HQ FTV Video
-Nudity at Bus Stop & Park, Toy Play
-Masturbation to Squirting Orgasm
-Large Bead Stuffing, Multi-Toy
-Extreme Closeups, FTV Monster Toy
-Fisting, Hard Masturbation/Squirt