Also one review this day. Meeting another FTV girl, not the youngest one, but still pretty & beauty. Her name is Luna (real name) & she is 29 y.o. She is Spanish, Italian & French mix. She has been a cover girl for Playboy. Now she has tattoos on her body. Her ass is perfect and boobs too. Luna has big boobs so you can think it is implants. But no. She has beautyful natural breasts. Luna posing with FTV girl Danielle on one of her photo shots.. so you can enjoy 4 big natural titties lol. Luna has a lot of flashing material (hq photos & hd videos) in the members area. New FTV girl Luna loves her breasts and likes to show them on camera. I noticed that all girls with big boobs put accent on their tits. Also she masturbate, play with her pussy, & inserting fruits there, visit gym, toying on the bed.. and many more staff including some girl-girl action with Danielle.
FTV model Luna: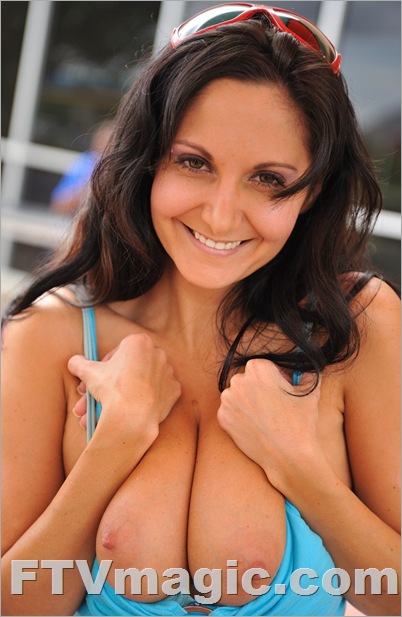 Sample Luna's Photos:
Luna's Comments: Hey Everyone reading this, first off let me tell you a little about me: I was born in Gibraltar, UK and stayed there until I was four years old. Then my family briefly lived in Paris, France until my dad's work brought the family to Houston, TX. Although I have lived in numerous cities including: Gibraltar, Paris, Los Angeles, New Orleans, Miami, Fort Lauderdale, Sugar Land, etc…Houston will always be home because that is where my parents reside and pretty much where I grew up. People always ask if I'm Spanish or Italian well I do have both in the mix but I also have some French -yup I'm a total mutt! I had heard and seen FTV before so when I came across a job opportunity, I sent my pics right away. A couple weeks later, I was on a plane and headed towards Arizona! Some people may think that's crazy-how did I really know these people were who they said they were and this wasn't some terrible scam…well I didn't but I trust my gut instinct. Anyway, everything turned out legit as you can see yourself he-he. Since I flew in from FL, I got in really late Monday night an didn't have to shoot till the next day. FTV girl Danielle and I stayed up talking quite a bit and she gave me lots of useful info and made me feel way at ease. The next day, her, the FTV photographer and I went to lunch and there came my first challenge-flashing in a public place! I've appeared in several Playboy Special editions and on Playboy.com-All naturals so I'm very comfortable with nudity but boy was this harder than I thought! The first couple times were hard then it was easy until I looked back and saw just how many people were there-then I froze! Next challenge-changing on the side of a road. I have to admit, walking around naked was kind of liberating and I made some new friends that let me play on their truck. As you can see, I had lots of fun on it he-he. My boob massage with Danielle was fun and made me feel total at ease for my bedroom masturbation scene. I used a toy I had never tried before [ a clit vibrator] and boy did it work! I came really quick and actually managed to have two orgasms for clit toys! Visit Luna's Page and download free video.
In the Members Area:
322 Photos, 5400 Mb Video Added.
High Definition Videos:
Masturbation Meet  – Hottie is discovered & ready to orgasm for us >> Download >>
Busty Adventures – Sexy eye candy satisfying our desires >> Download >>
High Quality Photos:
Exposed In Public >> Download >>
Sporty Sexuality >> Download >>
Close-ups In Pink >> Download >>
Hourglass Figure >> Download >>
DD With Danielle >> Download >>
>> Visit FTV Girls Site >>
Download masturbation HD videos