Another one update of the young nice-looking girl Madi. Her previous update you can find on ftvmagic here. If you don't know or forget Madi is only 18 y.o., but she has a gorgeous figure with big boobs & accurate teeny pussy. This update is more extreme and you can watch Madi performing the following actions:
Public Nudity
Dress & Heels
Masturbation: Orgasm w/Toy
Extreme Closeups
Vagina Gaping Closeups
Bikini Stuffing
Water Hose Stuffing
Water Squirting
Veggie & Fruit Stuffing
Foot Fetish Scenes
This is 243 photos and 47 minutes of Ultra High Definition video. This means that you can see Mady almost like she is in front of you. This means that you can see her pussy very-very close to you. Download videos in the members area.
And OH GOD I like her. This means that you'll find A LOT OF HER PHOTOS below in this publication… in various stiles, with various angles & views.
Madi's Comments: My ideal girl would definitely be one with pretty eyes a nice ass and brunette. With guys.. well if you have money i could care less what you look like. I'm very picky and it ruins me to say that cause i am in no position to be picky. I compare myself to other girls constantly and for the most part, what i hate about myself i can change, i just need to get off my ass and be motivated. I love always being around people because i think too much when I'm alone. On a normal day you can catch me wearing jean shorts and a tank top.. it's my comfy clothes. But if you catch me going out on a fancy dinner date, I'll be wearing short heels, tight fitting top and long skirt maybe above my knees. I love real fur coats, which is funny because i am a complete animal lover. I find most of my fur pieces in thrift stores in Hollywood. My goal is to be driving a Porsche panemera and living in a really nice apartment in the next year. I don't like the people in LA too much but i do like some of the areas. Saving my money and spending it wisely is definitely something i need to start doing.Since this was my first time shooting, i am definatly so excited for the future. Working with FTV girls is definitely an experience i will never forget. Coming back will hopefully be in future plans! My favorite part about the whole shoot was running around naked in public and all the beautiful places i was lucky enough to see. Growing up in LA has made me realize it's hard to find good friends and watch what people you put in your life. Sometimes they're good people but they aren't the best to be around. I really enjoyed my second day of shooting and i can't wait for more!
This is Youthful FTV Madi: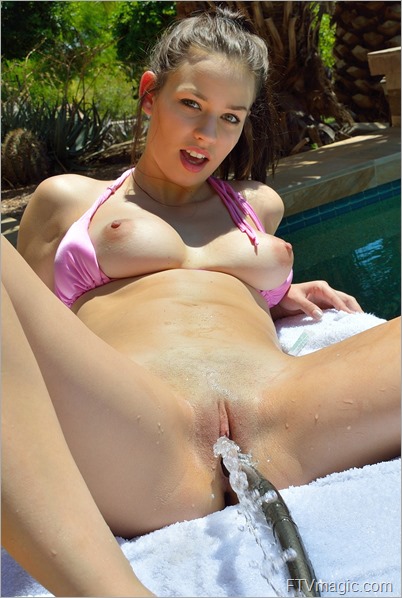 FTV Madi's Free Photos:
Madi masturbating in front of camera and opening her pussy wide
GET ACCESS TO THE MEMBERS AREA
Videographer/Photographer's Comments: The gorgeous Madi returns — though this second part comes right after the first, it was actually shot a month or so later. She's gained more experience, and done some softcore shoots in LA, and with a little more money in her pocket she's brought out some more mature, sexy, sophisticated clothing. Right away we start with a classy/dressy scene, with her hair done up. While part one was the more casual, teen look, this part two is all about the dresses & heels, as well as trying even more kinky things with her improved confidence. Our first shoot is at an office area, and we watch that leggy girl walk through the parking area and office area topless. Then she picks up a long dildo, and makes the comment that she likes Star Wars, and does the 'lightsaber' thing with the dildo lol. She looks hot fucking the dildo from practically any angle, and we end up on the parking lot floor, with her pounding herself and really getting into the penetration. From the previous shoot, I realized how much she likes the feeling of penetration, and sex in general. Its especially hot to see her pound herself on the floor, from the side. We then go for a lunch break at a busy restaurant, and with her improved confidence, she's eating topless and is seen by quite a few doing it. Fortunately we didn't get into trouble. The sophisticated look continues, this time with a black top and black heels. It has her scene start sitting in the Bugatti, and walking uphill towards the camera. That part was difficult for her, as that slope is greater than it seems on video. She has a thing for cars, like Star Wars, thanks to her dad, and really wanted to do a shoot with the car so here you go. At home, she uses the Vibraking toy, and ends up with an orgasm that happened rather quickly and unexpectedly, so I did not have the proper angle to get the vaginal contraction view properly. Like before, she's very wet down there after an orgasm, and her wet juices are all over her fingers when she pushes them inside her for spreads and gapes. She takes her shoes off and it becomes an improptu foot fetish scene, but she's not really into her feet. Then its back to penetration which she enjoys so much, this time with a large thick dildo for her to ride. She takes it pretty deep, and rides it nice and hard with total pleasure. Hot to watch those breasts bounce while she goes up and down on the lifelike dildo. Then I have her gape again, from up above, the way some of you members always ask for. The weather is warmer now, and good for a wet scene poolside, so a bikini shoot with her pink heels seemed a good fit. We get voyeuristic views of her full breasts, then as all FTV shoots go, it gets kinky. From bikini stuffing to water hose stuffing, she does it all, and we get good views of her kinky experience. The sunny day also allows me to get good views of her clit when she spreads herself. As the day comes to an end, we do another dress & heels scene, this time in white, with the sun going down. Then again, its not much of a dress — its really a shirt, but she's far more confident now with walking around naked out in the open. In the picnic basket she finds some bananas, and starts penetrating herself with one, enjoying that feeling of having sex with the phallic object. The banana, getting somewhat soft, is then put away so she can finger herself and masturbate instead. But the problem is that she's on a bench which has a direct line of sight with a busy road, and we ended up getting the attention of a police van driving by. Fortunately we did not have any trouble, and managed to swing around and continue shooting until sundown with more full nudes. I hope you enjoy this double update with Madi, a gorgeous first timer with the most glorious natural breasts I've seen in a while.
Comments of FTV Girls Members:
SAZG: This woman has a spectacular body. His face is youthful with cute eyes and lips to kiss them for several minutes. His legs are nicely turned, her breasts – oh what beautiful breasts – long, her pussy is small and very juicy, your buttocks are firm and in the middle a beautiful, tight ass. To return soon to make a video where getting a toy in her ass, would be something spectacular
IndyRob: Madi and Tara in Hawaii?? Be still my heart.
dudeatx: Her bumhole is something special – love to see lots more of that!
Jk: Stunning girl, love how she opens herself wide in clip 3 and shows the result of her masturbation. Still hard – more of her please.
Subscribe FTV Girls Today
Watch all her videos in HD quality