Here is the second part of the twin girls adventures on FTV Girls. A lot of great HQ photos and exciting HD videos such as dual masturbation added to the FTVgirls.com members area. Just a screenshot: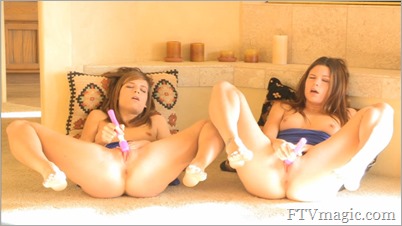 One of them (dunno who is) makes such a funny faces while masturbating. And that's not all. Also in this update:
-> Anal Toys,
-> Girl-Girl,
-> Masturbation to Orgasm,
-> Other Stuffing,
-> Shaving Scenes,
-> Strong Orgasmic Contractions,
-> Veggie & Fruit Stuffing,
-> VibraKing,
-> Dress and Heels,
-> Extreme Closeups,
-> Public Nudity,
-> Speculum (explore girls inside),
-> Strong Orgasmic Contractions,
-> Unique Fetish (find out which).
That's a lot of things. 93 minutes (like a full movie) in HD you can download if you subscribe FTV Girls.
You know them, you meet them again with new photos… and also 2 minutes banana stuffing video inside this post!
FTV Twins Raylene & Romi:

FTV Twins' Free Photos:
Get All Their Photos In High Resolution
Set For Wallpapers Or Watch a Slideshow
Romi's Comments: My sister Raylene is a special girl. We are twins, so it is a given that we have a lot in common. We also have our share of differences as with any two people. We are extremely similar physically, and that is obvious. But the things beneath the surface that are the same are that were both thrill-seeking and creative. But she herself has absolutely loveable qualities that I am blessed to see in a sister. She has amazing style for one. Many mornings I have woken up opting to wear a burlap sack and pajama pants only to be shown the light of fashion by Raylene, and what a gift that truly is. How many gatherings she has prepared me fore can not be counted in numbers. With a seasonally appropriate blouse and her signature hair-do, I know I can count on her to keep me looking fly- even if only as arm candy. Her gifts do not stop on her looks. She has a heart of gold. I never have to ask anything of her because she is always prepared to give, and will offer whatever she has to keep the happiness. She is all about being happy. She is generous with her time, money, smiles, and counsel if ever needed. When she walks into a room full of people, it is clear to me that almost everyone is looking at her to watch her laugh or say something ridiculous because that's just her way! Some people have asked before if I get horny for her or find her attractive. This for me is a two-part question. 1) I do find her attractive. Her eyes sparkle and explode into different colors no matter what kind of mood she is in. Her nose is something to behold by painters and illustrators everywhere. Her figure is also impeccable, which she works very hard on. She inspired me to be in better shape all the time. So yes, I do find her attractive BUT 2) I do not desire physically as sex object. She is a giggling, bouncing, responsive magic-filled friend with a lots to offer other than cum. LOL. I know for a fact though that her boyfriend finds her sexy! Shooting with her, I get to show off how sexy I thinks he is. Even though I tell her all time, I get to express it in an artistic way when we shoot. I adore her for her mind and sensitivity and that is my favorite thing about her. We have a special bond that will never be match by another human, and I am not shy about saying this. She is my best friend,and yes we have disagreements because no- we are not perfect- but all I can say at the end of hanging out with her that she is a joy to have around and will always be my favorite person. Sorry boys. Lol!
FTV Twins' Sample Video:
[uppod video=https://ftvmagic.com/videos/ftv_twins_second.flv align=center]
Watch Full Video in High Resolution
In the FTV Girls members area
Raylene's Comments: The thing, I believe, that makes me a people person is being a twin. I have always had someone to compare myself to and to share my deepest thoughts with. Romi and I didn't always get along, but we always believed in the love we had for each other. There is no one who understands me better. She is who I laugh with the most out of anyone in my life. She is my sunshine and my rock. She is the one who introduced me to modeling in the first place. As her and I both are quite tall and slender, we've been approached all of our lives about it. But Romi, the daring one, started doing it first at just 18. I love how she is not afraid to do crazy things. I love how she doesn't get scared to try out something new or intense. Even when we were little, we challenged each other all the time to be more adventurous. Whenever I see her doing something outrageous, I want to do it too! I'll admit, this hasn't always served us well, but it's certainly kept our relationship exciting. I do share some qualities with her. It's hard for me to even to try summarize her when we are so similar! Romi, like me, is a sensitive and complicated person, and I adore this about her. She's complex. Sometimes our similarities are obvious and other times, we are quite different. For example, we have completely different taste in music and fashion, but we willingly compromise with each other. I'm a bit more of an art snob than she is, and she's a bit more practical. We all have our own strengths. She is an inspiration to me in many ways. There is never a dull moment between us. We have many inside jokes, or what we call "witty banter". People have accused us of having our own language. Any friend of hers is a friend of mine. However, the boyfriend situation is not the same way! I'm sure though that there have to been some boys in the past who fell for both of us at the same time. How could they not? We're both fun, energetic and full of spunk. She is my best friend, and I couldn't imagine life without her by my side.
FTV Twins' Screenshots From Videos:
GET THESE VIDEOS IN HD QUALITY
Watch online or download even for smartphone
Videographer/Photographer's Comments: Its our 3rd day of shooting, and as the morning sun rises over the bedroom, the girls wake up in the comfy bed naked. Inquiring about them sleeping together, they often do sleep in the same bed, and quite often in the nude, especially on a hot humid Florida summer. Romi teases Raylene with some breast & nipple play, then a butt & foot massage. Raylene does the same, and also pulls & plays with Romi's pubic hair. It might be my impression, but I feel that Romi seems to have a hidden desire for her sister, that goes beyond sibling play. This shoot seems to give her a chance to play on that desire. We push the 'limits' of what siblings can do, from using toys on each other, grooming each other, and breast & butt play. Raylene gets her excited chance at playing with the vibraking toy, ending up with a strong orgasm and visible vaginal contractions. Then its time for a shaving scene, as the girls work on shaving Romi's bush together. Then a little kinky anal penetration with the shaving handle. Once shaved, their vaginas really do look alike! I'd say Romi's labia are slightly longer however. I get the girls some breakfast, and we then hit a kinky veggie scene for Raylene, similar to what Romi did. With the help of Romi, Raylene ends up taking quite a bit of banana in both holes! Once again pushing the limits of what she – and as siblings – can do.
FTV Members' comments:
"I just cannot believe that you will ever be able to shoot better series than these with Raylene and Romi. Great shoots of the most stunning girls (with and without bush). Truly one of, if not the, greatest treat ever! Thank you!"
"I just have to say that I have fallen in love with these funny, sexy, darling sisters. They have captured my heart from their daring sexual adventures to their adorable nose rubbing affection for each other. I hope they will be back as guests or even residents of the FTV house. Thank you Rob for this beautiful gift of Raylene & Romi. They are a treasure without measure!"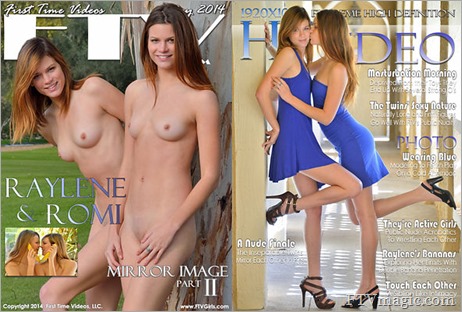 GET ACCESS TO THE MEMBERS AREA
Enjoy HD Videos Of Masturbating Girls