This FTV Girls update supposed to be released in October. But for some reasons we have it here and now. One of the tiniest and sweetest girls backs to FTV Girls after two years. And now she is cuties and sexier. I'm talking about Stacey. She was taken to FTV Girls in 2013 in her 18 years old (and of course you can see her previous update here). Unlike the other girls on FTV Girls she didn't start her porn career so we can say she is FTV and only girl, FTV Girls exclusive. Stacey is only 4'10" tall, her figure: 32C-25-34. You know why she is the bubble little one? Because on the little body the girl has the good forms and elastic smooth skin. You can watch all the beauty of her body on the photos below. Also you can get access to the members area and watch her videos:
Public Nudity
Masturbation: Orgasm w/Toy
Extreme Closeups
Bottle Stuffing
Makeup Brush Stuffing
Multi-Toy Penetration
Veggie & Fruit Stuffing
Anal Bead Stuffing
FTV Goliath
105 minutes of HD videos and all her 364 photos you can watch after paying $30 and subscribing FTV Girls here.
Model's Comments: Ohh where do I start. After I shot my videos with ftvgirls I went back home to Georgia and I made the mistake of telling my boyfriend at the time about it. He got upset with me, and one day told my parents. Well that didn't go too nicely and my parents wouldn't speak to me for months. I'm back in their good graces now and I'm not with that guy anymore. But I have to say I really had a crush on the photographer that shot me on the first ftvgirls shoot and started having all sorts of fantasies about him. I remember when my shoot was done, and I was in the pool on a warm summer night and he came into the pool with me for a bit and I got to see his body. I was so turned on by him and his nice shoulders but didn't say anything (and I had a boyfriend anyway). He was also very handsome and gentlemanly, even if he was 20 years older than me. Well I really really wanted to come back to see him but needed the excuse to shoot to make it happen. I didn't tell him anything about my feelings on the phone but would send him revealing pics of me just to keep him interested. Well when I got to shoot again (oh my god has it been 2 years already) I think I'm in better shape now and my hair is longer as the photographer suggested. I was so happy it was him again and not another guy. I don't deny that at this point I had to tell him how I wanted him (and I haven't had sex with anyone for 3 months so I'm really horny) so after the first day I really wanted to fuck him. I wasn't disappointed when it happened on the second day. He's sensual and made me experience things I never knew about myself sexually and I had so many orgasms you wouldn't believe. I think we fucked about four or five times a day until I left back home. He also has the kind of penis that goes deep until it hits the back of my vagina and I like that pressure pain feeling. Its how I can orgasm during sex. Maybe our shoot was shorter than the last one because of all the things we did together but I had a wonderful time. I know I'm really supposed to write about myself here but I had to get this off my chest. I want to see him again, and of course he's reading this so he knows how I feel about him.
This is Young FTV Girl Stacey: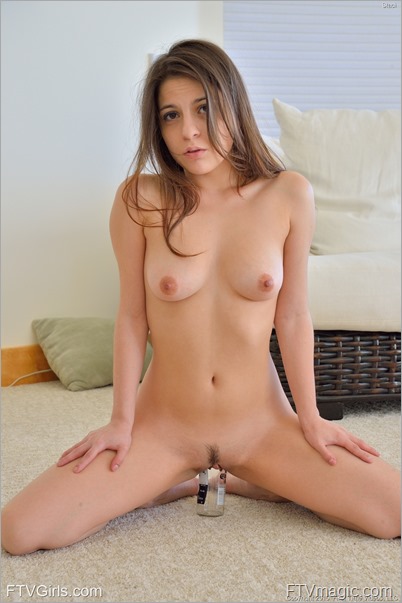 Stacey's Free FTV Photos:
Subscribe FTV Girls Today
DOWNLOAD HER VIDEOS + VIDEOS OF OTHER GIRLS