Another one fresh models on ftvgirls website Vanessa. She is 22 y.o. She is a real amateur, has a rather 'unique' long face, long sexy legs, beautiful face & smile. She has 5 high quality photosets in the members area: Sunshine State, Dress & Heels, More Explicit, Trouble in the Park, More on Location. And she has two series of her HD 1440×1080 videos: Amateur Style, In FTV Fashion. Closeups, penetration, park play, masturbation, outdoor shots. FTV girl Vanessa was shot by her boyfriend on some videos and you can see her boyfriend inserting sex toy in her pussy on the free sample pictures inside this post.
FTV Girl Vanessa: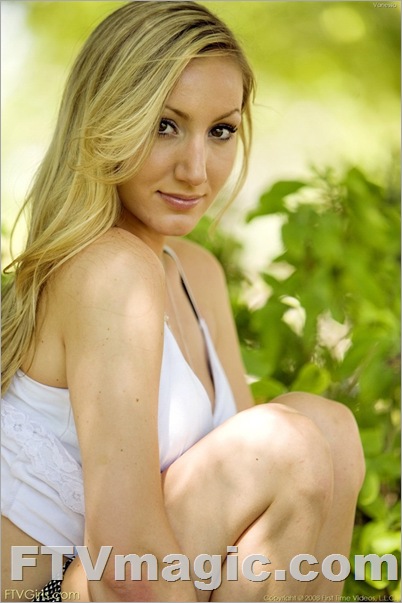 Vanessa's Sample Photos:
Videographer/Photographer's Comments: He never met this model, but a photographer who lives in Phoenix is dating her. That photographer is somewhat a 'shooter in-training', trying to imitate the FTV style. There is a lot of work needed to get there in FTV videographer opinion, including about being smarter in shooting in public locations. 'Shooter in-training' has shadowed FTV videographer in several shoots, from Alison Angel shoots, to observing his Alexa's second update in September 2008 as well.  Well about the model: FTV guy find her very sexy, though Vanessa has a rather 'unique' long face & she has a very beautiful eyes and smile.  Again, he is not very satisfied about the quality of this shoot, like he said, second guy in training.
In the FTV's members area:
8000kb/sec HD WMV Video
-> Dressup Scene
-> Flashing/Upskirt
-> Masturbation w/Fingers & Vibrator
-> Water Fountain Play
-> Outdoor Nudes
-> Boyfriend Using Vibrator on Model
Total of 360 pictures and 4000 mb of full HD videos. Download now >>
Screenshots from her HD videos:
High definition (1440×1080) videos of Vanessa:
Amateur Style:
Has her first exposure on camera shot by her boyfriend
In FTV Fashion:
Park play and masturbation assisted & a kinky touch
High Quality Professional Photos of Vanessa:
Sunshine State:
Sun in her beautiful hair & sparkling gorgeous eyes
Dress & Heels:
Dresses & thongs with her black heels always on
More Explicit:
Shot indoors making use of close-ups & penetration
Trouble in the Park:
Risky outdoor shots end in a little intervention
More On Location:
Her tall slim figure has a very sexy look to it
All this staff only in the FTV Girls Members Area