And the second update of the hot young brunette Violet on FTV Girls. This time in the members area added 91 minutes of HD videos and 176 hi-res photos with this beautiful 19yo chick. Second update brings some free content for FTV Magic. And you can watch a lot of photos below. Also in her update:
General
Public Nudity
Masturbation: Orgasm w/Toy
Fetish
Extreme Closeups
Vagina Gaping Closeups
Nipple Play
Strong Orgasmic Contractions
Anal Fingering
Anal Toys
Extreme
Fisting
FTV Girls Videographer's comments:
The focus for this part of her shoot was anal, partly because she was all excited to try pushing her limits anally, but also that she had really worn out her vagina haha. We picked out her sexiest dress, with the wedges she brought, and let her parade around at another fancy resort. The little bonus is the gem butt plug inside her, as she reveals it, pushes it in and out of her butt, then does a little dance with it in her. She claims that she does wear it sometimes in personal life, and it feels good inside her when she walks around (and that kinky thought of what she's doing to herself). There's an even bigger one that came with the set she had, and she hadn't tried it yet. So I challenge her to it, and she ends up getting it in her on the steps… and train away by pulling it in and out of her. It prepares her for what's next, a clear glass ball toy, that is even wider; she pushes that in with quite a bit of effort, and it stretches her even wider. I get some good closeups of her pulling it out. Then its time for the 7 inch blue dildo, which she gets all the way in, and even fingers her vagina, making it move about. The kinky nature of the video goes a step further, as I introduce her to the vintage vibrator, and let her masturbate with it as the dildo is still in her ass. Notice how the contractions' pressure pushes that dildo in and out, pretty crazy. The Vibraking would have been the best choice, but for some reason I could not find it… as of this writing I still haven't found it. I sure hope its not lost! Then I have her try some anal gaping, but her tight butt snaps right back into place. A second camera angle I had to see those 'movements' even more clearly, as well as that hope that she would squirt again. And so ends another ideal FTV girl's shoot, something about her really turned me on in person. Whoever the lucky guy is to enjoy that… What I also liked about her was how she had a pretty good head about her shoulders, sharp, and knows what she wants to do in life. Responsible, drug-free, and looking towards her education. Oh yes, on the very end of the last video with the fire, you might have noted that she talks about a friend of hers that might do FTV. Then she wants to do a girl-girl with her… cross our fingers it will happen.
Violet's Free Photos:
All her photos (better quality) + HD videos in the members area.
Inside the members area: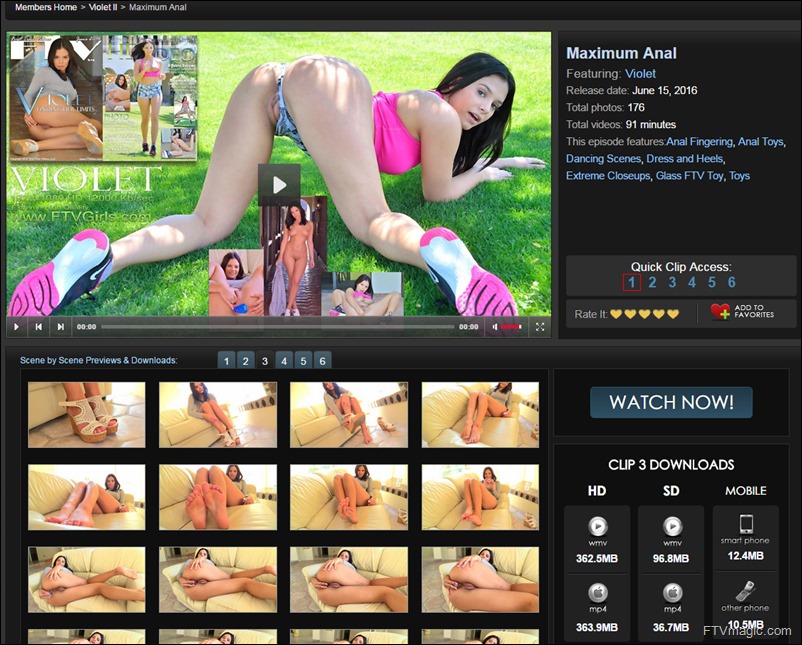 Watch this beauty girl masturbating in front of camera and getting orgasm (in HD quality) in the members area.
GET ACCESS TO THE MEMBERS AREA
Download all her HD Videos & Photos