WOW such a nice girl for today. Aubrey has just been published on FTV Girls site and has a TOTAL FIRST TIME EXPERIENCE being there and masturbating in front of camera. This teen brunette is 23 y.o., she has a nice slim body with B-size boobs.
FTV Aubrey about herself: "I was born on February 24, 1989 and I a am 23 years old. Just celebrated this year. As the years goes by, I start not to realize my birthday more and more. It makes me more sad each year because it's like "WOW" I lived a quarter of my life already, and I wish that I was able to spend time with my parents more, but I can only see them a few months; and that is being that they travel to Europe for 6 months for the summer time, and spend the rest of the remaining 6 months in the United States; usually 3 months Florida and 3 months in New Jersey. I was adopted when I was 2 & 1/2 years old in Romania. I can speak three different languages as well, which is Romanian, Hungarian and English. I can read and write in all the three languages. I grew up most of my childhood in Romanian, which I do not regret at all. I learned so much in school, due to the fact that the school system in Romania (Europe in general) is so much harder and stricter then the schools in America.  I played soccer and basketball since I was a little girl and still enjoy to shoot some hoops or to kick the soccer ball around. Once I graduated high-school I decided to go TRADE SCHOOL, which was called Stonetech Career Institute for Court Reporting. I ended up being the 1st to graduate out of my class that I started with. I finished the course in one and a half year, when originally the school itself was three years. I was so happy for myself and I even started to work full time. I ended up reporting for 2 years until I got diagnosed with ovarian cancer about 8 months ago. I did my treatments that I needed to take care of, but the only problem was that I wouldn't go back to work. All of the agencies were really slow. They were laying off everyone."
Her application photos:
Aubrey came down from New Jersey to shoot with FTV, then move to LA, to start her hardcore porn. So she is doing the FTV shoot to "get her feet wet" in the adult industry. A first timer when she arrived, she hadn't done any porn work short of a few self nude photos, and her stripping experience (which definitely has helped give her that nice firm butt). 
In FTV Aubrey's update:
-> Public Nudity: Resort, Restaurant
-> Masturbation:  Orgasm w/Toy
-> Massage(Hard):  Breast
-> Dancing Scene
-> Extreme Closeups
-> Foot Fetish
-> Banana Stuffing
Total of 223 HQ photos & 4300 Mb of HD videos. Subscribe FTV Girls & download or watch free photos below in this publication. I hope you'll like her. Also I've shared some screenshots from her videos.
This is FTV Brunette Aubrey: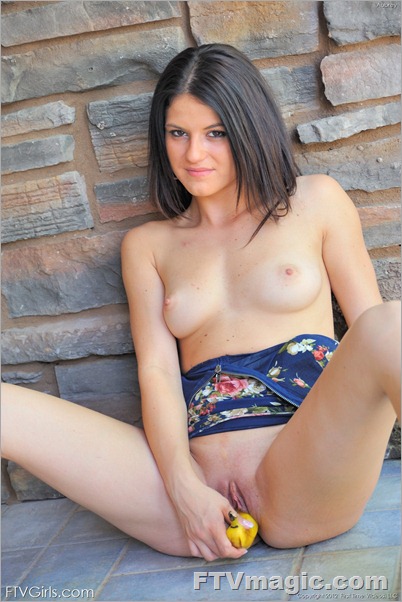 Aubrey's Free Photos:

Screenshots From Aubrey's Videos:
SUBSCRIBE FTV GIRLS
HD Masturbation Videos of 500+ Young Pussies