Meet this tall and skinny girl with strange name ftvgirls Avia. She is kinda hardcore girl with her love of anal sex toys. Also she has a great smile, I like when she's smiling. Avia is more mature girl than the other FTV girls and looks like more experienced at the same time: she is 26 years old.
FTV videographer's comments: This shoot was not done by me, but by a French photographer who wanted to do a 'contributor' shoot of a girl he was dating. So they have that mutual chemistry already. Its rare I accept any contributor shoots, but this one sort of passes the test. Avia is a high fashion type model, and her trying this first time shoot was a way for her to get her kinky side out of her system, to get that experience she always secretly wanted to have. She's only doing this for FTV, and you won't be seeing her anywhere else. She sent these photos of herself in fashion shoots

and later the photographer sent these self-nudes:

Nice figure, no tattoos, good stuff for FTV. So the shoot begins with them on a trip to Napa Valley, and him recording her while on the road, with an interview. It soon enough becomes a masturbation shoot when he offers her a brand new Magic Wand toy. According to her, she's never used a vibrator before. It brings her to orgasm pretty quickly, with some nice visible vaginal contractions. Though her fingers in her sort of get in the way. Then she does it again, and the photographer likes to watch anal, has her finger herself anally for the first time. Again, she has another strong orgasm but some of the good views of the contractions get blocked because of her fingers in her butt. They end up getting to their cottage/hotel, and she does some upskirt teases, then goes to the room to masturbate some more, this time with a thick vibrating dildo, ending up with a very nice view of another strong orgasm. This girl is definitely a natural when it comes to orgasms. They end up going outside, have her undress out in a parking lot, then run about near some camping area with upskirt teases and fingering.
There will be 2 free long streaming sample videos inside this publication with FTV Avia having fun in the forest and masturbating in the car. If you subscribe the paysite you will also find the following HD videos with her:
-> Public Nudity
-> Masturbation: Orgasm w/Toy
-> Contributor Shoot
-> Strong Vaginal Contractions
-> Anal Fingering
-> Extreme Closeups
-> Banana Stuffing
-> Magic Wand
-> Anal Toys
FTV videographer's comments: Once again, I'm writing for the photographer, as he didn't have any notes to give. Too bad Avia didn't do a personal write-up, which I usually have girls do on the spot. But the French photographer was a bit 'lost' in his fun I guess. A note of 'warning': On clip 5 and 6 where she's doing masturbation and anal, you can actually hear the photographer jacking off in the background. Ahh, hence why it is tough to get proper contributor shoots… Anyway they're out at a hiking trail, with her undressing on the spot, putting on a workout outfit. Seems that people around this area are much 'nicer' about a girl doing these things than where I shoot, everyone smiling and checking out the random girl who is masturbating on bench… She ends up using a banana right there, stuffing and masturbating with it. Maybe its just me, but I think too much lube is being used for all these shoots. As they leave the place, they go to what seems to be a gas station/corner store, and she parades around the place with upskirt views and fingering outside. Then comes another interview at home, with her masturbating again, this time with a glass toy in her butt (and also the photographer masturbation sound effects which I could not edit out). More and more orgasms with the Magic Wand toy, then some deeper anal play with her pushing out the glass toy with her butt muscles. With one last orgasm for the evening, the shoot is done. So this update is a rather different take on an FTV shoot, from a different photographer, but the new locations, the FTV-only Avia, strong orgasms, etc… should make it a good one.
This is FTV Sexy Girl Avia: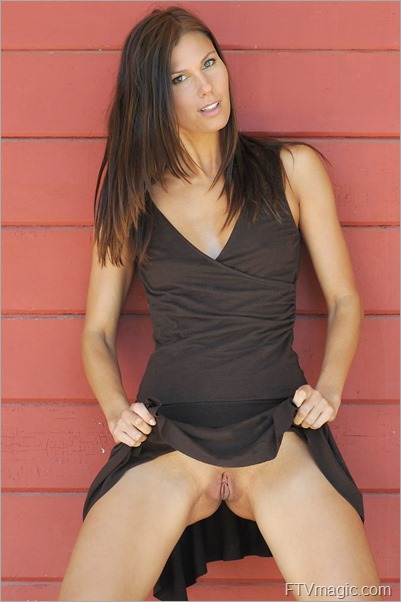 Free Photos of FTVgirls Avia:
Get FTV Girls Access
Hi-Res Photos & Videos in HD
Sample Videos of FTVgirls Avia:
[uppod video=https://ftvmagic.com/videos/ftv_avia1.flv align=center]
[uppod video=https://ftvmagic.com/videos/ftv_avia2.flv align=center]
Subscribe FTV Girls Today
Get All Her Videos in HD