Hey, guys! It's Daniel. I am here today to share some photos of the sexy FTV girl Bethany. This is her second visit to FTV girls. Bethany is 21 years old, she has the big boobs and the slim body: 34D-25-36. She's not cute, but she is crazy! Why? In her update there is a lot of naughty action like public masturbation and anal beads:
-> Public Nudity
-> Masturbation: Orgasm w/Toy
-> Jogging Scenes
-> Massage(Hard): Breast, Butt
-> Squirting
-> Veggie Stuffing
-> Strong Vaginal Contractions
-> Public Masturbation
-> Foot Fetish Scenes
-> Bikini Stuffing
-> Heel Stuffing
-> Anal Beads
Here on ftvmagic.com will be a lot of her photos (more than 70). But here won't be any videos. You can see her sample video here… and all her vids in the MEMBERS AREA:
469 Photos
1600px

95 minutes of video
12000kbHD
FTV photographer's comments: Bethany contacted me about a month before, indicating her interest in coming back for another shoot. Looking her up, she's only done Penthouse, and nothing else, so essentially an FTV exclusive. She does a lot of random artsy glamor modeling, and she send me a few updated pics. Along with her popularity the first time, she was well worth returning for another adventure shoot. Flying in from New York the night before, I greet her with a video camera, and shoot her picking up her bags, flashing at the airport, then going to a department store before it closes to buy her some dresses & heels. It becomes outtake Clip6 along with some flashing at the store as well as her undressing and getting rather sexually agressive before I send her to bed. You see her without makeup, and pretty tired from the 9 hour transit. The next morning, the real shoot begins, where we are introduced to her once again, in a pretty yellow dress (which we bought the night before) and her flashing her goods, getting rather daring in all the poses and 'chill time' with her breasts & butt out right in the middle of this malls' hallway. Lots of upskirt and downblouse views! As you see in the beginning of Clip1, we got spotted early by the security, and had to play cat & mouse with them. Also, a fire truck spotted her getting naked, drove around, waved hi to her, and drove away (captured in picture 142) After a hearty breakfast, she then masturbates with a vibrator out near the mall, in a rather open, public location to orgasm. Notice she squirts first, then 'releases', then has her strong orgasmic contractions/orgasm right after that. Continuing the selection of pretty things we bought the night before, she visits a fancy office area and we get to enjoy her walking barefoot and naked before she puts on the white wedges and the 'conservative' dress. Once again, its about enjoying her upskirt, watching that butt move from behind. Those complaining about the tags on her white wedges, they were hard to take off, so we kept them on. Then it gets kinky, with her stuffing a summer squash as deep as it can go, and pushing her limits on how wide she can get. Then she shows off her sporty side, jogging in hot, tight little sportswear, which doesn't stay on for long… watch those breasts bounce as she runs! Back home, she uses the Vibraking Toy to another strong squirting orgasm and strong vaginal contractions. She was excited to use that vibrator again.
This is FTV Girl Bethany: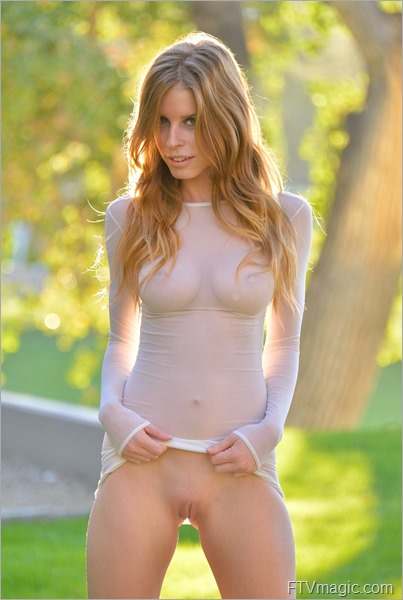 How do you like her? Please rate this girl and continue watching her photos below:
Bethany's Free FTV Photos:
Subscribe FTV Girls Today!
Get all her photos & videos
Bethany in the members area: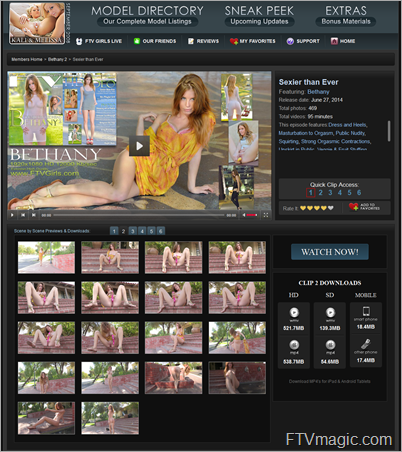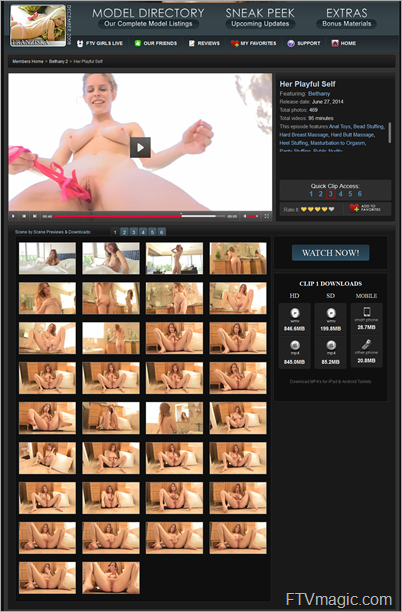 Get Access To FTV Girls Members Area!
Teen girls, masturbation videos, orgasm close-ups, pussy licking
As low as $30/month.