Guys! Finally we have here fresh teen meet with totally first time experience! I'm so glad to introduce you YOUNG horny girl Cadey. She is only 18 years old, such a smiley and funny, with slim body and shaved pussy. Her height: 5'5", her figure: 32B-24-35. You'll definitely love her teen spirit and sweet face. Lets see what her update brought to us:
Public Nudity
Upskirt in Public
Massage(Hard): Breast
Magic Wand
Water Squirting
Vagina Gaping Closeups
Extreme Closeups
Other Stuffing (Doll)
Veggie & Fruit Stuffing
In total you'll find 283 HQ photos & 102 minutes of HD (12000 kb) videos with Cadey in the members area.
Cadey's Comments: When I looked into doing a shoot for FTV Girls I wanted to see what I was getting into first LOL! I took a look at the site and LOVED what I saw, especially the public nudity stuff which I hadn't really done before so I was pretty excited about doing that. It seemed really cool how comfortable the models were and that was definitely the vibe I got from my shoot, it was seriously the best time and the photographer guy Eric had me cracking my ass up (get it, ass crack?) so it was wayyy more fun than work hahah! I got to show my titties in public and play with myself, tho some of those toys were just CRAZY powerful and my little pussy just couldn't handle that much buzz…I'M LOOKIN AT *YOU*, VIBRA KING lol! If I had to pick one favorite part of the whole day it would be tough, I did like rubbing ice on my clit oh man it was so cold but soooo refreshing bc things were getting pretty tender down there. Oh I also liked when I used that barbie doll as a sex toy, I never heard of anything like that before but hey, I get to check that off my bucket list…wait why did I even have that written on my bucket list? Anyway I had an awesome time from start to end, and I'd definitely love to come back for more fun sometime…hopefully you all dig it too! xoxox
This is FTV Teen Girl Cadey: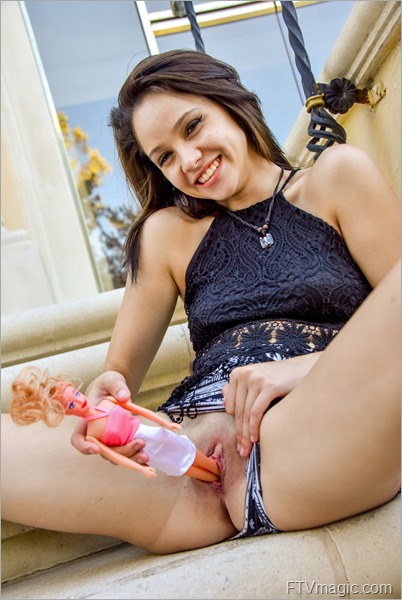 Free Cadey's Photos:
Comments of FTV members:
Andy: I'm gonna chime in on the dancing issue…it's epicly awesome, this has been one of my fave sites for years and the addition of the dancing was brilliant, I dig the twerking too but I'm also really into just how a girl would dance at the club
Anon: Yay! Please keep showing more naked dancing and twerking!
This lady is amazing! But, in general,the ladies on this site are so perfect, seeing them up and dancing completely naked is certainly what will keep me coming back to FTV!
Thanks for showing this young lady show off her moves, I'm really hoping to see the naked twerking become a common theme on this site!
Become the Member Today
Download all her HD videos + videos of other girls
Screenshots from the Members Area: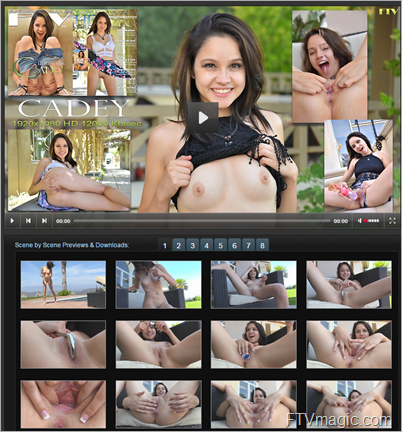 Cadey has 14 video pages in total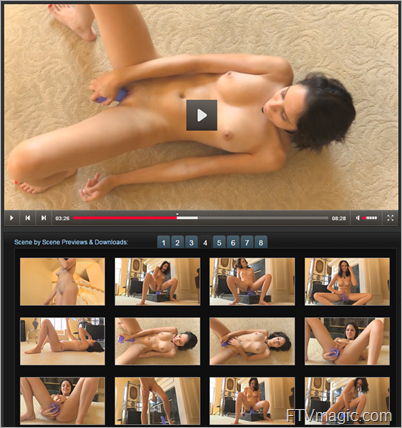 Videographer/Photographer's Comments: After a little break Cadey found a couple more toys she wanted to try, namely a large curved pussy hook and a pussy plug. Trying the hook first she enjoyed the cool metal, penetrating herself and giggling…the plug was difficult at first since she is so tight down there but she was finally able to insert it, gasping a little when it finally 'popped' into place! One of the things that struck me about Cadey was her willingness to try toys and experiences…including some vagina gaping after the plug, which I was able to get some nice closeups of. She had a great time with the water play, spreading her vagina open and laughing as I poured cool water inside her to squirt out…another first time experience for this fun teen! To help relax and soothe her slightly sore vagina I decided to have Cadey rub herself with an ice cube – which she first used on her nipples – an experience she enjoyed despite being so cold on her privates. Putting on some of her own music she did a little dancing, enjoying her own un-selfconscious teenaged awkwardness…I also had her demonstrate her unique 'inverted twerking' as she did a handstand, shaking her butt and then getting a serious case of the giggles! Later in the afternoon she did some insertions with a large thick toy, then gave fisting a try. She wasn't able to fit the entire fist inside her tight vagina but her persistence paid off with four fingers of insertion, after which I showed her on the camera how her vagina was gaping. She was in the mood to get a little exercise in and burn off some of her extra energy, so Cadey changed into her jogging gear and went for a topless run in the park on a hiking trail, playing with her breasts and enjoying the warm sunshine. We headed back to the house where she inserted a large banana, which got squished because of how tight her vagina still was – even after all the play she had done! She tried one more 'normal' toy, a curved glass dildo which she was able to 'lock' into place inside herself for a few moments, using her vagina muscles to push out before tasting herself on the tip. The day was almost over but I had one more surprise in store that I had brought along…a doll! Cadey loves penetration so I thought she could try a unique toy like this doll, and stuffing it feet-first she was able to fit it deeper than I expected. Cadey rides the line between youthful innocence and confidence, and is amazingly beautiful…it was a lot of fun to shoot with such an energetic and charismatic teen.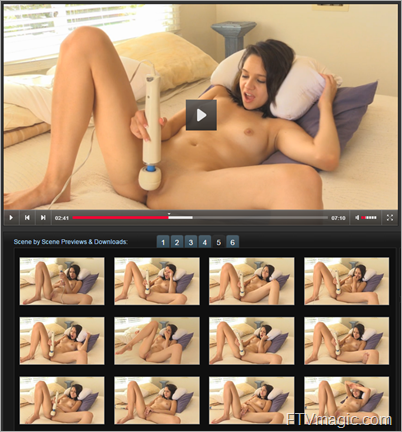 and much more in the members area…
Subscribe FTV Girls Today
WATCH HER MASTURBATING IN FRONT OF CAMERA