Hello, I'm Mai Lin, and welcome to my ftv shoot.  I turned 20 a week after this shoot and I celebrated by traveling back to Taiwan to visit my mother there.  My mom is Mandarin Chinese, and I can speak it, but I'm not good at reading or writing it.  I've lived most of my life in California, as I moved with my father who is separated from my mom when I was 2 years old.  My father is German/French.   So right now I am trying out softcore modeling because I'm comfortable with getting naked and the money is good.  I'll never do hardcore though.  Most of my money goes to my education and I'm in my 2nd year of University right now.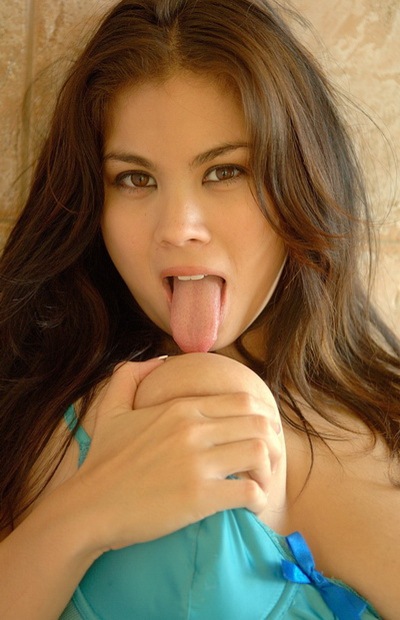 I'm aiming for a bioengineering degree and then want to go for an MBA.  I want to be involved in the bioengineering business.  Yes, I had a 4.0 average in High School mostly because I was a nerd and I didn't have any friends.  Things changed a lot out of High School.  Even though I had D's by the time I was 14 I didn't get much attention from the boys.   I'm happy with large breasts but I really don't want them any bigger than this.  I guess befitting of my looks, we went to some Chinese storefront where they had some really pretty architecture.  I started going topless but I was nervous about it since there were people around and the windows behind me were full of office workers.  The photographer seemed unphased about any risk involved and built up my confidence.  He said he had shot here before.  The talk came to my feet, and I like my feet, he videotaped them but seemed disinterested in shooting them.   I like my feet.   He was more than obsessed with my breasts, as many guys are when they see me in a low cut shirt or bikini. 
Sample FTV Photos From Members Area: 
To be honest, I don't really wear anything that reveals my cleavage and I stick to t-shirts that sort of hide that.  I have a boyfriend, but I masturbate too, and sometimes while having sex I'll rub myself which helps me orgasm during sex.  I use fingers to masturbate but as it is since they had so many toys available I really wanted to use one of them instead.  I can orgasm in front of the camera, if I just close my eyes and enjoy the feeling.  For me the masturbating with the toy is like one big orgasm coming through me for ten minutes and is best at the end of course when the orgasm really does come down.  Sometimes I like to prolong the pre-orgasm so that I enjoy the whole process longer.  Also sometimes it will my orgasms feel stronger.