Hello everybody. Another one update with two girls. One of them is Jenna who started her FTV Girls modeling in 2015. And the other girl is Melissa who shots for FTV from 2008 and recently born a child.
Melissa's Statistics. Age: 24 | Height: 5'2" | Figure: 34B-24-34
Jenna's Statistics. Age: 21 | Height: 5'3" | Figure: 34C-25-38
There is a lot of things you can do if you're a girl, even more if you're a pregnant girl, much more if you have another naked girl for a shot. And I was ready for everything: milking, kissing, pussy licking, sex toy play, fisting, etc. But there is one thing I've just seen in this update I wasn't ready for: filling pussy with mink from tits using speculum. Ok, lets view the full list of this shot's action:
Anal Fingering,
Double Penetration,
Dress and Heels,
Girl Girl, Kissing, Oral sex,
Multi-Toy Penetration,
Masturbation to Orgasm,
Vagina Gaping Closeups
Fisting (whole fist in pussy),
Lactation (to the mouth),
Magic Wand masturbation,
Speculum in pussy,
Bottle Stuffing,
Squirting,
Unique Fetish,
Large Toys
Enter and watch all 394 photos & 101 minutes of HD video in the members area.
Meet FTV Girls' Lesbians Melissa & Jenna: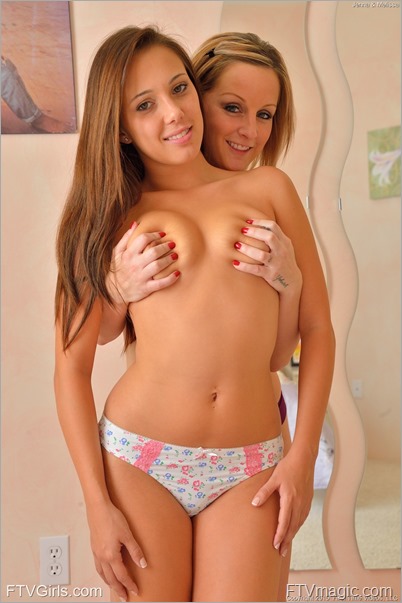 FTV Jenna's Comments: I asked her to fist me. We started with me laying on a high table with my legs spread on either side. She started off getting me wet and moving my pussy juices around with her fingers. When she got to four fingers I was ready. Or at least I thought! She put in her hand past her knuckels and I felt my pussy start burning and then she slipped in the rest and it was really burning and I couldn't even hold myself up, so she took out her hand. Then I got in doggy style and she was able to slip it in much easier and it hurt less. She I felt my pussy so full when she started wiggling around in there. Even though it hurt, it feel so good and I couldn't help but cum. It came over me like a wave of euphoria. We also got a glass water bottle and she milked her titties into it and got a good amount of milk in there. It was a good couple of sips and I enjoyed drinking every drop of it. Then we got it in her pussy. This was a challenge, we ended up getting it in with the mouth piece in first. I had to spread her pussy lips, insert the head of the bottle and wiggle around then put some pressure and wiggle through until the fat part of the head went in. Then it was easy and smooth after that. She kept pushing it out with her vaginal muscles and the bottle would quickly slip right out so we did that a few times. It was really cool to see the inside of her pussy through the glass like that. She then wanted to see inside me too so she put a clear, plastic geyno thing in my pussy. She then had to open it and lock it, but she put it in the wrong way so you couldn't see my cervix. Then she unlocked it, repositioned it and locked it again. This time she could see in my pussy. Especially with that huge flashlight she had to light up my inside. I really wanted to see so I asked her to describe it for me and she said it was really pink and wet. I asked her to squirt milk in my pussy so she started dripping into the opening of the speculum and then she was dripping milk where she filled up my pussy with it. When she took it out, my pussy closed back up and pushed out all the milk. I could feel it drip over my pussy and ass and she loved watching. It was definitely a very fun and kinky experience. Melissa also fingered me while I used the hitachi magic wand on my clit. The hitachi was making my clit so sensitive and her two fingers made me go crazy and took my over the edge. I came so hard on her fingers and then we made out. I had so much fun experimenting new things with the gorgeous Melissa.I still have little butterflies from such an extreme day. I had an amazing time I will never forget.
FTV Girls' Free Photos:
So you have watched 96 photos of 394. Also you can watch almost 2 hours of videos with them. You only need to subscribe FTV Girls.
Young girls, Masturbation scenes, Lesbian action
GET ACCESS TO THE MEMBERS AREA
+ 300 Photos, +100 minutes of HD video, + 600 girls!!