I've just watched archives in the FTV members area and seen this beautiful, really sweet teen girl FTV Riley, 20 years old.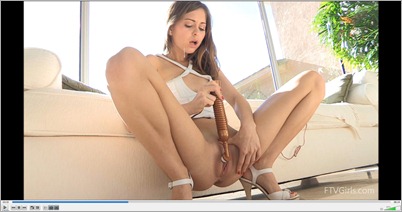 This girl had already been reviewed here, on FTV Magic, make sure to visit the other Riley's post here: FTV Girl Riley: 110% Cute (March 2012) with great free photos! Riley has a great teen body with small tits, accurate pussy, small feet. Her figure: 34B-24-34. Riley is full of life, you can see it in her amazing naked dance video scene (I will post it here streaming below). Also I have read all her text she wrote for this update (take a look below) and you know what? She is so cute but such a slut! 🙂 Also FTV videographer called one of her video "Total FTV Girl". Do you know why? In this update:
Total photos: 302. Total videos: 90 minutes. Subscribe FTV and download.
This Is FTV Girl Riley:
FTV Riley Comments:
Now if your wondering about how i got into the industry, that's a sorta, hmm how should i put it, complicated story. So short story was i needed money cause i don't come from an even middle class family so when it came to tooth paste, underwear, whatever it was my job to support myself and buy it. So i was working at a shoe store getting about 10 hours a week, barely supporting myself when i got in some kind of trouble. So i basically owed about $2000 to the government -.- and had no money, yikes. So i went to the local strip club for an amateur contest and didnt win, but i met a "lovely" girl who won and made "friends" with and exchanged numbers. Few weeks later i call her to see how she's doing and to talk about another amateur contest, well she said forget that lets talk about porn. So i didn't have a boyfriend, didn't have a man so i figured what the hell why not! The money was great and I've always been the very sexually open one in the group. So porn here i come! and honestly all i can say since is i was at the right time at the right place cause here i am now sharing my story with you and it may be a bit wild but we all have wild lives. So getting back to my sexual open-ness ;). In my group of friends i was always the wild one, i either had two guy friends, one on each arm that i was hooking up with. They thought i was their lil treat but they had no idea at how much i had them on call, when i wanted to fuck they were both there. I've also had this oral fixation since i was a child i was a thumb sucker. Then about 14 i think is when it went from thumb, to dick. I never really knew what i was doing when it came to sucking dick, but I've just always liked to do it. Id get really into it and just really, what guys would say, put my heart into it. I've gotten from most men that i am in there top if not best dick sucker ever, idk its just that i like to please a man and being able to be the reason of him going crazy just turns me the F on! lol anywho i do like oral satisfaction, girls boys and on myself. I find it crazy when i meet girls who say they think its gross for a boy to lick their pussy. I'm like damn girl is your shit that nasty or something! like what the hell! I loveee when a man or lady goes there, of course you shower and make sure you nice and ready and you don't want to leave a bad impression of your self hygiene on your lover but to say you just do not want to participate in any kind of oral sex, i find that just weird. I mean maybe i don't have anal, but that doesn't mean I'm any less sexually open then any other. I've fucked in front of friends at parties, just having fun! You only live life once so why not just live it up, don't dwell on it and cry over this boy or even start regretting what you've done.
[flashvideo file=https://ftvmagic.com/videos/ftv_riley_03.flv image=https://ftvmagic.com/videos/ftv_riley_03.jpg /]
FTV Videographer/Photographer's Comments:
Flying in from Florida, Riley came in for a weekend to shoot before continuing her adult work in LA. From the moment I greeted her at the airport, she was spunky, fun, and full of energy. Considering that she's had a rather long flight, it was refreshing to see. On the next morning we headed out to a hiking trail, even though its the summertime here and it peaked at 107 degrees. I was dripping sweat everywhere, and had to keep my camera equipment from getting soaked, or worse, turn into superheated metal pieces. Why start there? She has a thing for the mountains, saying that she's never seen so many with the cacti and such. So she had fun, despite the heat. Back indoors, she masturbates and has visible vaginal contractions and squirting at orgasm. With her personality, it seemed best to let her record herself trying on cute bras & panties, and it was fun to watch. She started dancing, and even though I wasn't ready to record her, I started right away to capture the fun she was having. Then we picked the longest and largest cucumber we could find, and had her play with it, taking it as deep as she could go. Notice the juice buildup, and I'd have to say I liked the ride the best. Then the next day…
FTV RILEY'S FREE PHOTOS:
WATCH HER HD VIDEOS!
She masturbates like in front of your eyes!
FTV Riley's Real Comments:
I will never regret any of my sexual escapades cause they are wild and fun and just pure spontaneous horny-ness being released and shared with another wild sex addict. I've never been diagnosed but id sure say i fit the symptoms of sex addict, but hey that's why I've started porn. If your curious about my dating life, it doesn't exist. It may sound sad to you or idk what but with me i love it. I'm 20 years old and I'm young living my life focusing on me. I don't think I'm at a spot in my life where i can have the weight of another person being carried on me. I have a lot of my own things I'm trying to do, I'm trying to build my life, my career, my whole self into exactly what i need and want to be and its just really hard to do that with someone right there next to you. What if they cant keep up, or what if they aren't even on the same path, so to avoid an collision i just stick to myself and my friends. Of course i love to make new friends i love to meet new people, i mean who knows maybe the guy i met 4 nights ago and made friends with will be a guy i wanna date 2 years from now, but until then lets grow learn about each other and just live our lives. Cause if you think about your the only one living your life, so go out and live it! Through porn i really get to live mine, i mean here i am in Arizona! I never ever thought id be here! And its amazing here, the desert life, the bunnies everywhere! The mountains, its just beautiful. I've also got to travel to Ohio, which was amazingly beautiful. I was going crazy at how victorian and old and beautiful the architecture was, i was in pure awe. Plus how green it is! When i went back home to Florida, i was like i hate palm trees. lol of course i don't, but i mean nice full bushy trees are just awesome! You know I'm just one of those real down to earth people who just appreciate the little things in life. I never traveled before porn and now I've got to go on a plane and yet every time I'm still staring out the window with a big smile on my face, maybe even some tears, cause I'm mesmerized at how beautiful the sky and clouds are. My last flight i flew over a rainbow! I was like that has to count as some kind luck right. Any who i have a flight to catch and have another chance to stare out the window 😉 or make friendly conversation, cause i am just one nice down to earth kinda girl. If you ever meet me I'm sure you'll be able to tell off my aura that you and me, we can be life long friends <3
FTV Videographer/Photographer's Comments
Just a note: She actually did not bring makeup with her, nor did she put any on at all. So you're seeing her with absolutely no makeup. She is so cute and naturally beautiful however, that she looks just fine that way — and in a way I'm happy she didn't put any on. FTV is about natural girls and natural environments, and she's perfect for it. The dress & heels she's wearing is very cute, and was also her high school graduation outfit. We go to a more secluded (but still risky) area of the mall/resort and have her masturbate, her ending up dripping a bit on the floor. Then an interview out there, with peeks up her skirt, and some foot fetish and water play. Pushing that 'risk' further, I had her get completely naked, though it didn't last long as we finally got the attention of security people in their carts. To avoid confrontation, we headed out the back way. Back home, comfy and in air conditioning, she gives us more foot fetish, as well as extreme close-ups while talking about the loss of her virginity. She has the cutest butt, and it looks supercute in those panties of hers. Then she tries fisting, getting very close to a full fist, but look how tiny her vagina is! Another one of her picks for dress & heels, we go out to an entryway of a bank, and have some voyeur style shooting of her up skirt and flashing while on the phone. In the parking area below, she goes completely naked, once again a pleasure to see her walk naked in just her heels. Then a favorite fetish of mine, while cooling herself down, she stuffs a water hose deep, squirting water and making her vagina act like a water fountain! On our way back, we stop at another touristy hiking area, so she could take some photos — so I had her flash us some more. Then for an awesome finale: The Vibraking. Like most girls, she's apprehensive at first, but soon comes to enjoy it… leading to a very strong orgasm and strong vaginal contractions/squirting. She's another ideal FTV girl, giving us a true FTV adventure!
FTV RILEY'S FREE VIDEOS:
[flashvideo file=https://ftvmagic.com/videos/ftv_riley_01.flv image=https://ftvmagic.com/videos/ftv_riley_01.jpg /]
[flashvideo file=https://ftvmagic.com/videos/ftv_riley_02.flv image=https://ftvmagic.com/videos/ftv_riley_02.jpg /]
SUBSCRIBE FTV GIRLS TODAY!
Watch FULL Videos In HD Quality (Riley and 600+ Teens)!
Also About FTV Riley:
This cute, bubbly girl is one of the sweetest you've ever seen, full of smiles, full of fun! On a very hot summer day, she's in hiking gear… but soon enough the clothes come off and she's hiking completely naked! Shy at first, she gets comfy with it all and starts masturbating right there, even which hikers coming by! Back home, she cools off and uses a vibrator to a strong orgasm that makes her squirt! Visible vaginal contractions too. Then she gives us a cute bra & panty show in a very intimate manner which leads to a cute striptease dance to her favorite music! She loves to dance and shake that perfect butt, and we're happy to see it! Then she finds a very long cucumber, and decides to penetrate herself with it. Going deep, in several positions, notice her milky juices building up! Back out in a fancy resort & mall, she's walking in a sexy dress & heels, flashing and giving us up skirt views. She finds a more secluded corner, masturbates with a vibrator, and drips juices on the floor! Very risky, gets riskier by playing in the central water fountain, with her skirt hiked up, then getting completely naked (until we had to go due to security). Back in the comfy bed, she's only wearing cute panties, and she gives us a foot fetish special (her feet are so cute!). Then we get extreme close-ups of her private parts, as she talks about how she lost her virginity. She starts to finger herself… then tries to fist! She gets pretty close, doing some rather erotic near-fisting. Then in another sexy dress & heels (short skirt!) she heads over to a bank, starts doing more flashing up skirt, and starts rubbing herself at the entryway bench! Down at the parking lot, she then strips completely naked just so you can enjoy that supercute figure once more (with a bit of risk involved!). Poolside, she gets even more kinky by taking a water hose, stuffing it deep inside her, and squirting water everywhere! She becomes a sexy 'water fountain' with a rather unique sense of pleasure! Never been to Arizona before, she becomes a sightseer that ends up flashing some more… then finally going home for one last masturbation, with the Vibraking toy. It brings her to a very strong orgasm (or more?) and spurts of squirts and strong vaginal contractions. She's another super fun, adventurous girl who is perfect for FTV! Visit her page >>
Screenshots From Riley's FTV Videos:
Only from first FTV update. Here from the second.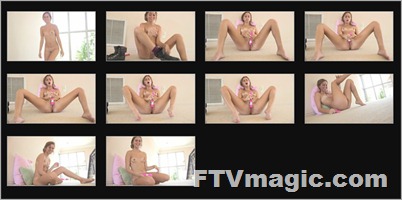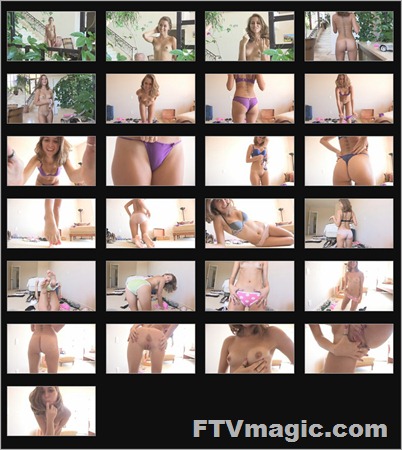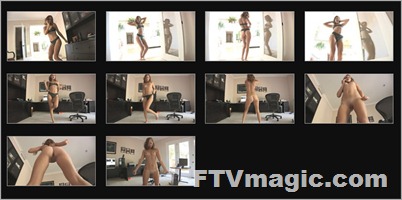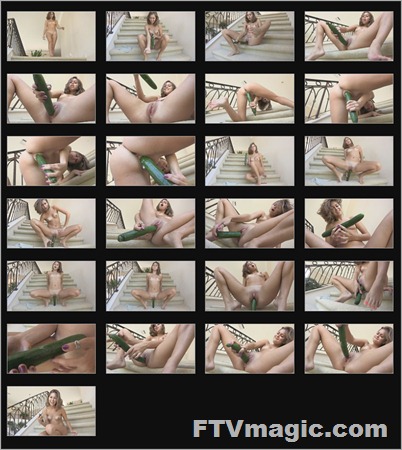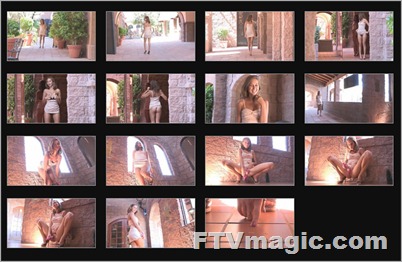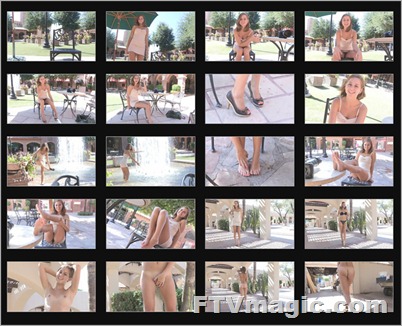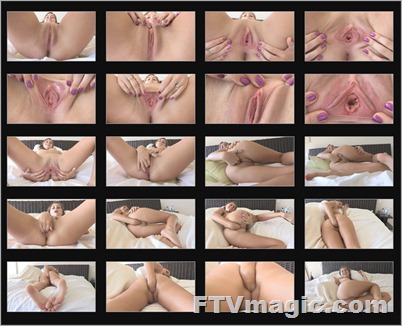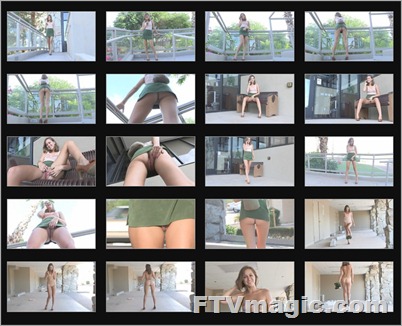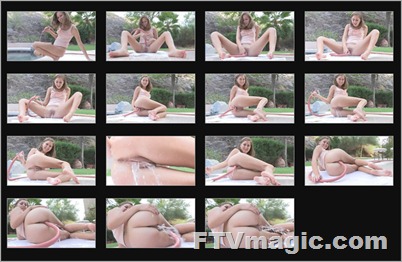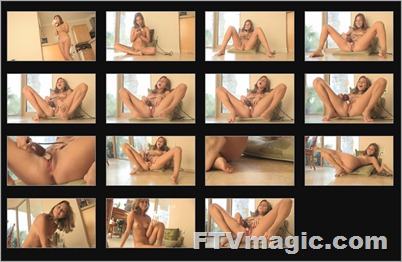 SUBSCRIBE FTV GIRLS TODAY!
Watch All Her Videos In High Definition!