Meet the sexy young girl with her TOTAL FIRST TIME EXPERIENCE on FTV Girls! Her name is Staci and she is 21 years old. With her 5'3" height she has a nice slim body with a great ass. Her figure: 34C-23-34. Don't like her boobs but her smile is very cool. Staci doesn't shy at all showing her pink pussy around and inserting her fingers inside. Also I like her smile feet. A lot of photos for you to rate her below.
In this update:
-> Public Nudity
-> Dancing Scenes
-> Masturbation: Orgasm w/Toy
-> Upskirt in Public
-> Foot Fetish Scenes
-> Veggie Stuffing
-> Squirting
-> Extreme Closeups
-> Anal Fingering
-> Nipple Play
-> Vagina Gaping Closeups
296 photos and 82 minutes of HD video in the members area.
Staci's comments on this shot: hi my name is Staci, I am a Scorpio, i usually don't follow astrology but i have found that it often correct. I am down to earth, kind, and loving. On the other side i am feisty and extremely sexual. i have two brothers and three sisters, of which i am the youngest of. I had humble beginnings that started with growing up in a small reservation and agricultural community. My family owned a nice 12 acre estate so growing up i could enjoyed riding horse and dirt bikes. it has now carried over into my adult life a little with activities like mudding (tearing around mud bogs with atvs or pickup trucks). my favorite part about mudding is getting dirty and just tearing around in the mud, even with the chances of getting stuck it is still such an enjoyment, especially when it is at a mudding festival or event. My favorite festival is a weekend event, consists of beer gardens, concerts, food vendors, camping and lastly the mudding competition. As you can see I was not over exaggerating with the statement of being very humble, anyone that gets to know me will tell you my personality well exceeds any exterior beauty. Back to my up bringing, growing up i moved a lot between Arizona and South Dakota. When i am in Arizona i enjoy riding bike, motorcycle and peddle bike, hiking and the rare find in the us, a drive in movie. From the looks of it, sounds like i am a very outdoorsy person but I actually and a home body. I am a very busy person so when i relax i like it to be with a snack or dinner and a movie or TV show. same applies with dates with girlfriends and boyfriends, I would much rather relax at home or back yard bbq than going out to a bar or club. Through out elementary school i was often the subject of bullying, then in high school I started modeling in new york, in a sense i was the ugly duckling that transformed into the white swan. I graduated high school a year early with honors then moved on to go to school at the university Minnesota. I received my generals but decided to go a different direction with my life and enlisted in the united states marine corps, it was an amazing experience and caused me to be more patriotic, appreciate America, what it stands for and Americas fighting forces. It might have lead over a little to much because i now toughly enjoy macho men 😉 That's about the just of me, I hope you enjoyed my essay, and shoot with ftv.
This is Young FTV Staci: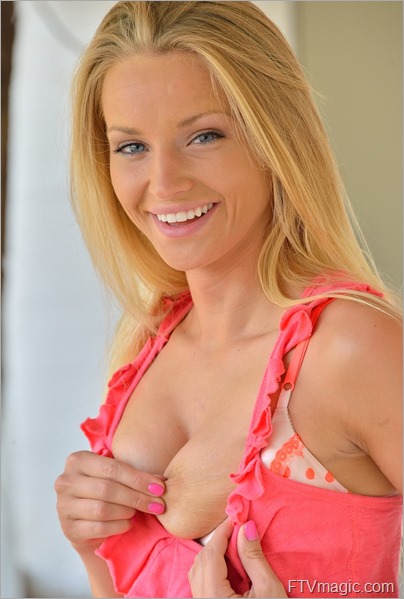 Staci's Free FTVGIRLS Photos:
Download Her HD Videos, Watch Her Masturbating
SUBSCRIBE FTVGIRLS TODAY!