When I saw her in the blue dress & heels, I had to do a fashion-based shoot on her there.  Though she can pull the teen look, I think she looks much hotter in this more 'sophisticated' style.  Maybe its me, but I think its hot when a girl looks like she's posing for a fashion set, but then a nipple pops out from a low cut dress, a slight peek between her legs from her sitting down, no panties, etc.  Her legs look so sexy in those heels, and that gorgeous exotic face of hers is quite seductive with her staring at you.  What better than to start with her fingering herself on the stairs, and slowly move to four fingers, going into potential extreme territory.  Here's where we started talking about her trying out extreme.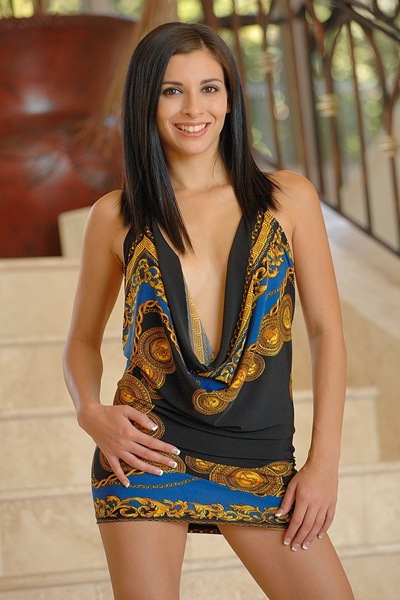 She likes larger penises, and said she is capable of using my larger toys.  I wanted to try her on the most extreme, fisting first, and going down from there.  So on to the couch, a perfect setting for her attempt, she tries fisting for the first time.  Her angles initially were from the front, but her reach made it difficult to go all the way in.  Once she lifted her hips up, she was able to do a full fist, and go past her knuckles.  It wasn't painful for her, and she seemed to enjoy the first time experience.  Her wrists get tired from that angle, and she moves to fingering and rubbing her clit once again.  Hot angles of the fisting with you being able to see her vagina expand as it comes in and out.
Some Sample FTV Photos:
Then after taking a break, she gives us the pleasure of checking out her private parts up close.  She has that clitoral piercing, so I took extreme closeups of the barbell and her clitoris, her playing an pulling on them, then talking about her piercing experience at 18.  We then move to her already stretched out vagina, for some super wide spreads and deep inside views.  Her labia are all swollen as she plays with them.  Make sure you check out the photos with the macro lens if you're into the super extreme details.
Her sample FTV videos: first & second.
A lot of you are dying to see some extreme 'veggie' action on HD, well your wish comes true here.  Once again she wears a very sexy dress & heels, show off her figure while washing the lemons & zucchini.  Then she picks out a zucchini, and starts pushing it in her, taking it as deep as she can go.  Why did I buy two of them?  Well of course, to try and see if she could double penetrate herself.  At first she is unsure, and unable, but she tries hard and gets both in there!  You can see that she is stretching herself to the max… an amazing sight.  She then slowly pushes them out with her vaginal muscles.  Then comes the next even more 'extreme' idea, trying a lemon out.  She manages to push it in, and makes it completely disappear in her.  Spreading herself open, she rolls it around inside her while you see it in deep (a first for FTV).  Pushing it out turns out to be much more difficult, and she is only able to do it by pressing really hard while squatting down.  Truly incredible.
1440X1080 HD Video on the FTV paysite:
-For A Real FTV Orgasm
-Discover Extreme
-Finish to the Fist
Unique Proffecional Photos on the FTV paysite:
-Fun Like A Teen
-Hot Model Will Fist
-Sexy Veggie Shoot
-Pigtailed Extreme