Today we meet young hot brunette with name Bailey. This girl has been already shot for FTV Girls last year, in her 18. And of course you can find her update here, on FTV Magic (FTV Girl Bailey: Orgasmic Overflow). Last shot she was funny and playful, with brighter hair color. And this time Bailey becomes more mature and sexual. Her height still 5'9", her figure: 35C-25-35. For this time Bailey made for us some great videos and photos:
Public Nudity
Upskirt in Public
Masturbation: Orgasm w/Toy
Massage(Hard): Breast
Squirting
Veggie & Fruit Stuffing
Long Labia & Stretching
Anal Fingering
Anal Beads
Speculum
Extreme Closeups
Double Penetration
Fisting
All this porn action can de downloaded in 363 HQ photos and 77 minutes oh HD videos in the members area.
This is FTV Brunette Bailey: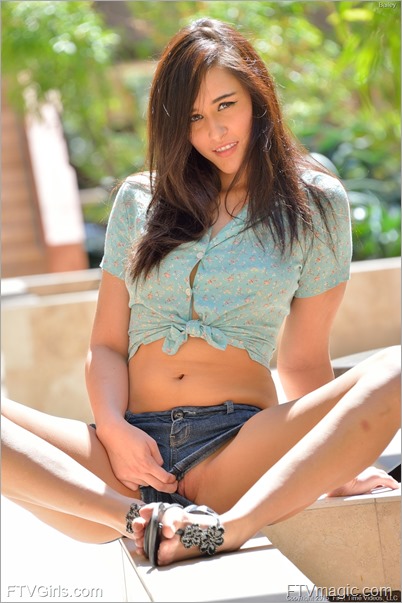 FTVGirls Bailey Comments: Thanks for having me back! I am currently living in Marina Del Rey, California. This will be my second appearance on FTV. The last time I had the priviledge of shooting with FTV, I was living in Nor Cal. I was born in Santa Monica but I was raised in the Bay Area. After a little over a decade, I decided that it was time for me to return to my homeland. In addition to having a lot of extended family in Los Angeles, it is also the ideal location for me to pursue my modeling career. Since my very first video, about a year ago on FTV, I have shot for various other solo sites. Besides my career and location of living, there have been a lot of new and exciting changes in my life. I have had the priviledge of traveling a bit cross country, picked up some new skills, and met many new influential people. I traveled to Oregon, Las Vegas, Seattle, Portland, Baltimore, and many more places that I've never seen before. As for my new skills, I have picked up a couple new hobbies. Yoga, cooking, and biking are the main new activities that I have focused my extra time and attention on. Living right next to Venice Beach, I am blessed to have many great yoga studios, restaurants, and bike trails around me. Although many things have changed since my last appearance, a lot of things have also stayed the same. I am lucky enough to say that I am still in touch with my beautiful family, generous friends, and courageous colleagues. I still enjoy swimming, tennis, shopping, and just hanging out with friends. My friends and I were lucky enough to embark on a few adventures the past year. Coachella, EDC, and Hard Summer are just a few of the bigger music festivals that I attended this past year. Overall, I am happy, healthy, and embracing whatever life throws at me. All of the good and bad times have taught me to be a more patient, optimisitic, and less judgemental person. My pussy is still very tight, as you can all see, and I am still very young. I look forward to seeing what Los Angeles and this industry has in store for me. This shoot in particular was filled with many crazy twists and turns. I tried a few things that I did not even know existed. I particularly enjoyed the old school vibrators (obviously), the thrill of shooting nude in public locations, and dancing for all of you guys. The giant cucumber was a little intense for my liking, but overall, I had an awesome time. Thank you for watching my FTV reshoot video. I hope you enjoy…I know I did. 😉
Bailey's Free FTV Photos:
find her free videos on girlsolotouch.com
Subscribe FTV Girls Today
Watch Her HD Videos of Masturbation