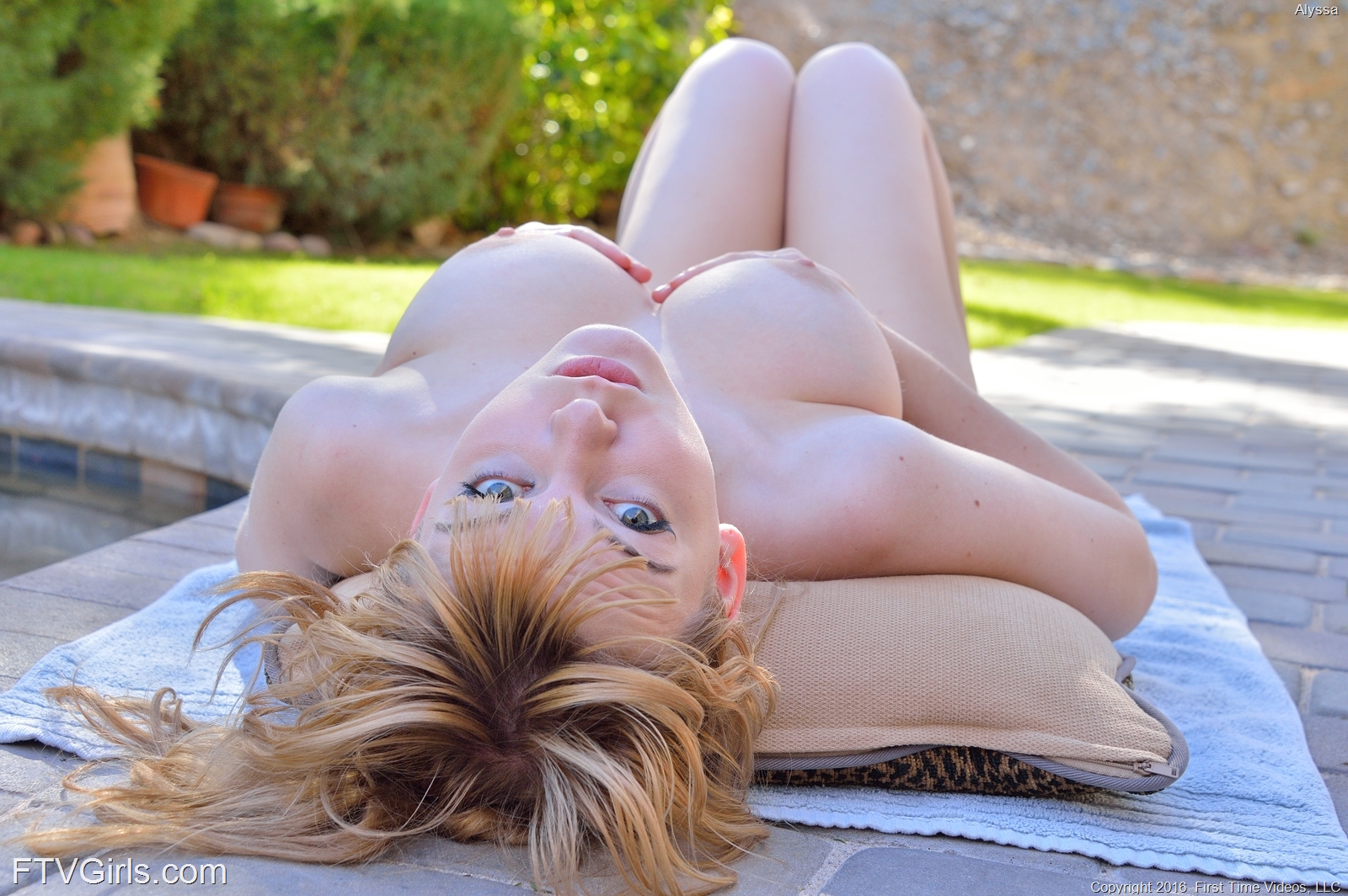 See the name of the post? The most glorious pair. Because FTV Girls website updated today with a nice girl with amazing perfect shaped boobs. Her name is Alyssa, she is just turned 18 years old. Her height: 5'4", her figure: 34DD-24-36. You know… girls with big tits looks very confident because they got a lot of men's attention, because they love themselves. Alyssa is not one of these girls. She is very shy. This is her totally first time experience.
FTV Girls Alyssa's Video Trailer
Like her? Subscribe FTV Girls and watch all her videos and vids of other girls
GET ACCESS TO THE MEMBERS AREA
Alyssa's Comments:
I was born in Dallas, TX in Oct 21, 1997! Whenever I was in high school and middle school I was always called out for, for having big boobs. I started looking up cam girl stuff and easy ways to make money off of the things I already had. It wasn't until I turned 18 a month ago that I went to see what nice nude work I could do. Ftv is the first one I'm doing but I don't want to do anything more hardcore or extreme. Growing up in Texas it was always very hot, but since I usually covered up I never really wore anything revealing cleavage, so this is/was all very new to me, but I was excited. Sadly, since I was only 16 I had to wait 2 years. In that two years it got off my mind and I never really thought about it again until my family started having money troubles. I'm still very shy and very quiet. I was and still am a little scared about modeling. My dad is luckily very understanding and I have many people around me supporting me. I love animals and I love people. I have 2 dogs and 1 cat and I love them as if they were my children! I play video games and love watching scary movies! I love volunteering at animal shelters and being the person people lean on for advice and help. I loved doing this shoot, it was new and very exciting since this is the first time i've ever done anything! I was so anxious and excited to do this and told all my friends about it that i'm close to and immediately told my family. I love being playful and doing my makeup very cutesy. I always get told I look younger than I am and always get I.D'd. Before all this I worked a lot of odd jobs. I worked at a bakery which was dreadful! People were so rude and it was a lot more work than I thought. I also worked as a painter for houses, which made my arms hurt. In the future I hope to become a child psychologist or psychiatrist. I want to be able to help children who have been through things or have issues and help them feel as if they're not alone or a bad kid because of things that happened that are not their fault. I want to spread love and peace to other people so everyone feels loved and welcomed and wanted. I want to help families with expenses. I love helping and donating whenever I can to feel like I am making some kind of difference.
In Alyssa's Update:
General
Public Nudity
Upskirt in Public
Massage(Hard): Breast
Dancing Scenes
Shower Scenes
Masturbation: Orgasm w/Toy
Fetish
Squirting
Extreme Closeups
Long Labia & Stretching
Vagina Gaping Closeups
In total: 266 photos & 83 minutes of HD videos with Alyssa in the members area.
Free FTV Girls Alyssa's Photos:
Videographer/Photographer's Comments
Alyssa literally came out of nowhere sending me an application without photos — I didn't expect much of it — and then when I requested photos, the three shots #1 #2 #3 were pretty covered up and didn't show much. She had just turned 18 a few weeks before… She seemed cute, but I was worried she would be 'heavy' underneath. We ended up doing a webcam video session where she showed me her body, and that was when I was blown away. There's some amazing breasts under that sweater! Even when she arrived on the first evening at the airport from Oklahoma, she was so covered up you'd never think she has big breasts under there. I found out that though she is proud of them, she does not like showing cleavage in daily life, because she doesn't like the attention. She had also brought a friend with her, who I thought was her boyfriend, but was simply a guy friend — she was nervous about coming alone. And so the shoot begins in the morning, but she does not have much clothes in the way of 'sexy'. She is really that kind of girl-next-door untouched by 'big city' life. We start a shoot at an exotic area, and expose her to public nudity for the first time. The shirt I picked for her comes up easily, and lets us see those glorious breasts when it goes up. So she flashes them, runs around topless, massages them, and gives us a tease between her legs as well. In photos, I really see how pretty her eyes are. She is super shy on camera still, so I have to converse with her and choreograph her as much as I need to, to get her flowing on video. We then visit a grocery store, where I want to see those breasts out and bouncing. I encourage her to dance to the music there, though she is pretty shy/stiff about moving her body. She says she's never really danced before, at least in clubs etc… Some of the employees spotted us there, and we had to make a quick exit. In the car, I let her breasts out and watch them bounce, and have her try licking her breast (which she's never done before). Then a little interview on maturbation at home, while showing off her butt (I don't think she's ever spread her butt cheeks before) then masturbating with the Eroscillator Vibrator. It was the best starter toy, since she's never used vibrators properly before, and I put up two cameras on tripods (she didn't want anyone around when she masturbates). One gets view of her face, reactions etc… the other gets more of a view of her vagina. Notice the contractions on orgasm, but even more, the mini-squirt she does at around 5:20 on clip 3 which ends up leaving a wet spot on the green pillow. She's a quiet masturbator allright. Then she talks about her rather tame sex life, and spreads her very pretty private parts. Everything looks so untouched and 'innocent' down there. She's never pushed more than one finger inside of herself, and it looks like she barely has sex. I try to loosen her up with some dancing, it took a lot of begging on my part, and I literally had to bounce and move & gesture behind the camera with the music with her to get her moving somewhat. Then its a little shower scene as she lathers those perfect breasts, with some butt action as well.
Screenshots from Alyssa's Video Pages:
Get Access to All Alyssa's Videos
Subscribe FTV Girls Today