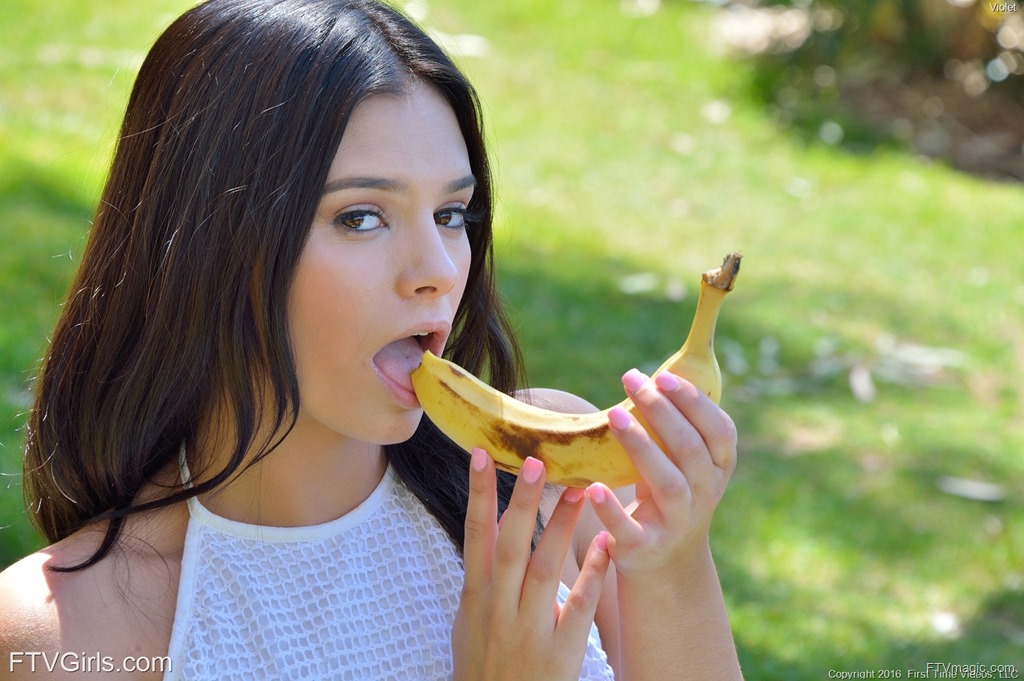 Meet a girl with a beautiful face and with a great figure. This update was released on June 10, 2016. Here is the sexy brunette. Her name is Violet, she had just turned 19 years old. And she is an extreme girl. In this update you'll see big toys, vegetables & fist in the pussy of the young horny girl. Violet's FTV Girls update devided for two parts and here is the first one with following content:
General
Public Nudity
Dancing Scenes
Masturbation: Orgasm w/Toy
Fetish
Veggie & Fruit Stuffing
Squirting
Strong Orgasmic Contractions
Extreme Closeups
Vagina Gaping Closeups
Extreme
Fisting
FTV Monster Toy
Total: 228 photos & 84 minutes of HD videos you can download from the members area.
Free Photos of FTV Girls Violet:
Watch VIDEOS of Violet masturbating in front of camera (in HD quality) in the members area.
GET ACCESS TO THE MEMBERS AREA
Model Comments
Hi there I'm Violet I am really excited to be a part of Ftv girls this experience has opened my mind and allowed me to explore my sexuality in ways that I never imagined. I am currently a full time student majoring in psychology with a minor in philosophy. I have a few options for career goals but as for now I am focusing on completing an internship in the practice of psychology. Training to be an aerialist has become a huge part of my life, I am learning with aerial silks and lyra. One of my short term goals is to perform at events and circus shows. In my free time I enjoy scuba diving. I have been diving for two years, eventually I would like to explore caves. Horseback riding is also a big interest of mine. I have spent endless amounts of rewarding hours working at a stable while I took care of the horses and taught others how to ride. Since I was younger I was always drawn to idea of working with animals especially marine mammals. When I was younger I would constantly go on marine excursions at every chance I received. I really enjoy traveling to different locations to explore various cultures. Norway and Germany are the top two places that I would love to travel to. I am very adventurous and I am almost always up for new experiences. I really love meeting new people and surrounding myself with good energy. One of my favorite things to do is hanging out with close friends and surround myself with positive people who I can learn from. If you would like to know more about me I would love to have the chance to talk to you and get to know you as well.
Screenshot from the members area: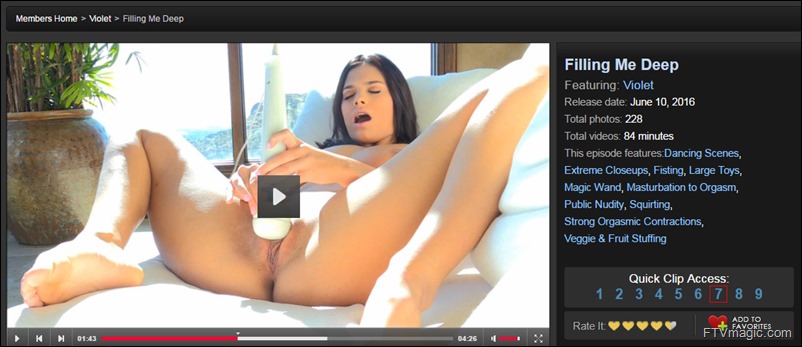 FTV MEMBERS' Comments:
Merlin7

I am overjoyed to see Violet get the best treatment possible from the adult industry – both professionally and personally. To see such a well-done scene, where the most genuine, captivating woman is having the time of her life, is a privilege. Thank you very much.
I've been tempted for years to get an FTV membership, knowing it was the best site, the only site, to see intimacy rather than porn, but never made the leap. Once I discovered that you had booked Violet, it was just a matter of time, and now I'm a member until at least 6/12/2017.
I can't wait to see more of your work with this wonderful girl!!
P.S. If any content that doesn't make it past the cutting room floor were to appear on the weekly goodie page, I would be eternally grateful. I just can't get enough of her, she's my shining Starr.

Jan

Fantastic veggie scene. Possibly best ever. Outdoors and well filmed. And Violet is great. Thanks to Violet an FTV

VENU

FTV Pure Art here. Violet is a stunning beautiful girl. Big round breast with amazing wide hips and bubble butt. She is a delight of curves, a truly voluptuous woman. All her beauty is captured with flawless magnificent and perfection by FTV cameras. We can see in some video frames and in a lot of pictures her entire full body walking slowly and we can she her full beauty, her amazing beautiful hair moving with the wind. Great finding. VIOLET you are more than welcome. A CURVY VOLUPTUOUS WOMAN HERE AT FTV…thanks for this perfect set of videos…

Steve

I agree she is sexy and voluptuous! I wish there was more video footage that was body appreciation. Things like long

 

Screenshot from the members area:

Watch this beauty girl masturbating in front of camera and getting orgasm (in HD quality) in the members area.
GET ACCESS TO THE MEMBERS AREA
Download all her HD Videos & Photos