Today FTV Girls website updated with 19 y.o. girl Adria who has her TOTAL FIRST TIME EXPERIENCE in masturbation in front of camera. Adria is a young slim girl.. Sometimes she's shy, sometimes she's very smiley and funny. She has a body of a very young girl with her small tits & butt. Her figure: 32A-23-34 with height: 5'3". Adria has very different looks depending on her outfits: the sexy one and the childish, unexperienced girl. You can see it on the free photos below. And one thing about Adria: she is cumming fast with strong vaginal contractions! Check this on her videos in the members area.
In Adria's update:
General
Public Nudity
Masturbation: Orgasm w/Fingers, Toys
Upskirt in Public
Massage(Hard): Breast
Fetish
Visible Vaginal Contractions
Extreme Closeups
Long Labia & Stretching
Vagina Gaping Closeups
Veggie & Fruit Stuffing
Nipple Play
Golf Ball Stuffing
Anal Fingering
In total you can download 233 hq photos and 71 minutes of HD video with Adria after getting membership.
Adria's Comments:
I have always found it difficult to talk about myself because I tend to be very curious about the people and things surrounding me. I am very outgoing and bubbly, most of my friends would tell you that I could walk up to almost anybody and start a conversation. I have always been a risk taker, which has gotten me in trouble at times, but I love trying new things and exploring new places. I am a huge foodie and love to try things I have never had before. One of my favorite foods is sushi even though, oddly enough, I hate fish when its plain. I have always been a "free spirit" if you will. Nothing drives me more crazy than staying in one spot for too long so I always try to take advantage of any opportunity that I get to travel. There is so much to learn from other people especially the ones who dont live in the same area as I do. I love to meet new people and get to know them even if its for a short period of time I feel like everyone posseses a piece of knowledge that I do not already know. I also find myself watching many documentaries because of this aswell. Filling my head with pointless information about "what to do when you come face-to-face with a lion". This always adds some good conversation starters when I visit my family so that I can bob and weave passed the expected "where are you going to college?" "what are you doing with your life?" questions. I have always been close with my parents. They were both raised very strict catholic but never implemented those values on us kids. They taught us the difference between good and bad and left it up to us to make the right decision. I really appreciate them for this because it gave me an opportunity to build my own views and decide for myself what was best for me.
Adria's Free Photos:
Much more on videos! Including masturbation scenes!
GET ACCESS TO HER HD VIDEOS
Videographers Comments:
… Later on in the day, she puts on a very sexy black dress, with matching heels. She looks really tall and slender this way, and has a sexy look to her as she walks. We get some upskirt views, then follow her through this resort to watch her play with a long cucumber. It looks so big next to her small vagina, and it really does push her limits! She rides it as deep as she can (hot views) until she slips and ends up dropping it. When she tries to toss it over the ledge, she ends up hitting a window of a nearby office, and it smashes into pieces. A person comes out to see who did it, and looks like he's calling security — its time to leave… again! I felt bad that it looked like someone was trying to vandalize, and wanted to clean it up, but couldn't after that guy showed up calling security. So we go home (and she was really burning out from the heat, it was one of those 110 degree August days with exceptional humidity) and shoot in the FTV house. I introduce her to a large, thick dildo, as well as the FTV Monster Toy. She ends up using the thick dildo, but after a hard ride, it makes her very sore. So its definitely a no-go with the bigger toy. She takes a break from penetration with a nice breast massage and nipple play, then goes poolside to play with golf balls. She's a little nervous about putting them inside, and as one ends up getting 'stuck', the female assistant ends up using her fingers to pull it out of her. She has used vibrators before, but the normal kinds… so I introduce her to the Magic Wand Toy. It ends up bringing her to a very strong orgasm, notice the very strong vaginal contractions. Even with her leg blocking the vagina on the second camera angle view, you can still see how it pushes forward/pulsates. The shoot ends near sunset, when she's back in the white dress and ends up walking around a resort, looking like she's doing a fashion shoot. I get the upskirt shots and teases, then have her try anal for the first time on camera. Its just a finger, but I hope it will satisfy some members' anal fetish. I actually had a glass ball toy for her to try, but it ended up hurting too much so we did not shoot it. As she will have entered the adult industry by now, I am curious as to how she will enjoy it.
In The Members Area:
Some screenshots (from video pages of Adria from the members area):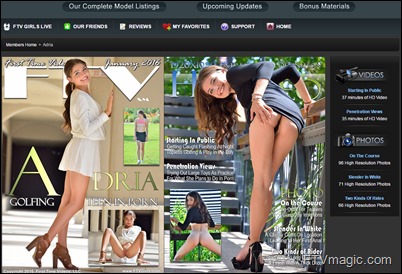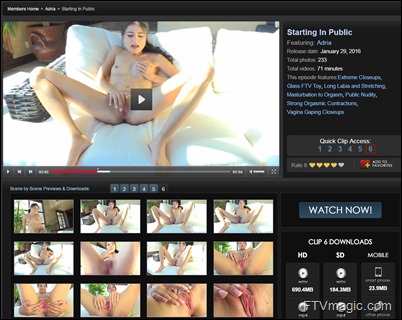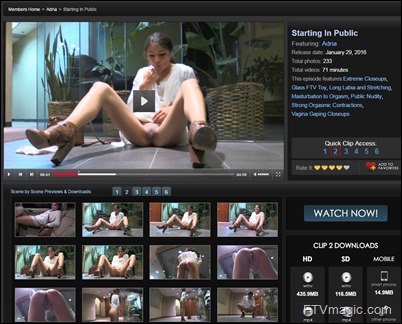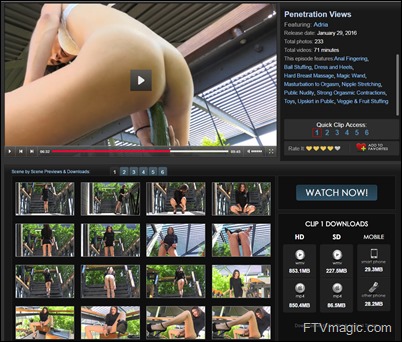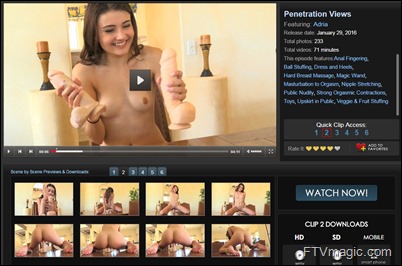 Subscribe FTV Girls Today
Watch or Download ALL Her HD Videos